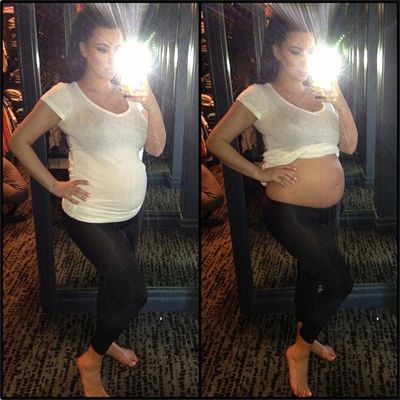 Following her emancipation from high-waisted, animal-print trousers with a built-in peplum — and the like — Kim Kardashian posted photographs of her bare baby bump on Instagram. Sure, the six-months-pregnant E! star is spackled with makeup, and her hand-on-hip plus popped-knee stance makes our loins feel like KimyEmbryo might fall out (click on the plus sign to see the full pics). But an unnamed confidant told Us Weekly that Kim is "finally accepting her body and getting more comfortable," and for that, we commend her.
In related news, portions of "I Hit It First," a new track by Kim's past home video collaborator Ray J, leaked online over the weekend. Lyrics include:
She might move on to rappers and ballplayers,
But we all know I hit it first …
I hop in the club and boppers show love,
And I don't even put in work …
I hit it, I hit it, I hit it, I hit it,
I hit it, I hit it first (X2)
I had her head going north and her ass going south,
But now baby chose to go West.
Set to music: