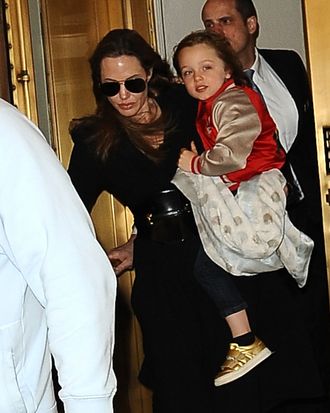 We live in a time of uncertainty, hurtling toward futures unknown. Will North Korea start a nuclear war? Is Lindsay Lohan going to jail? Will Facebook still be cool next week? What if the Roombas rise up and kill us all?
And so we find comfort in that which is constant. A strong, old tree. A familiar friend. And the resilience of the blankie of Knox Jolie-Pitt, son of Brangelina and twin sibling of Vivienne. Knox has had his blankie for four years and was photographed clutching it today, at New York City's FAO Schwartz. Does sister Vivienne still have her blankie? We do not know, but we can hope. Are we not all this Jolie-Pitt toddler? Clutching at fuzz, grasping at—
Oh, what the hell. I just like looking at these people, okay?