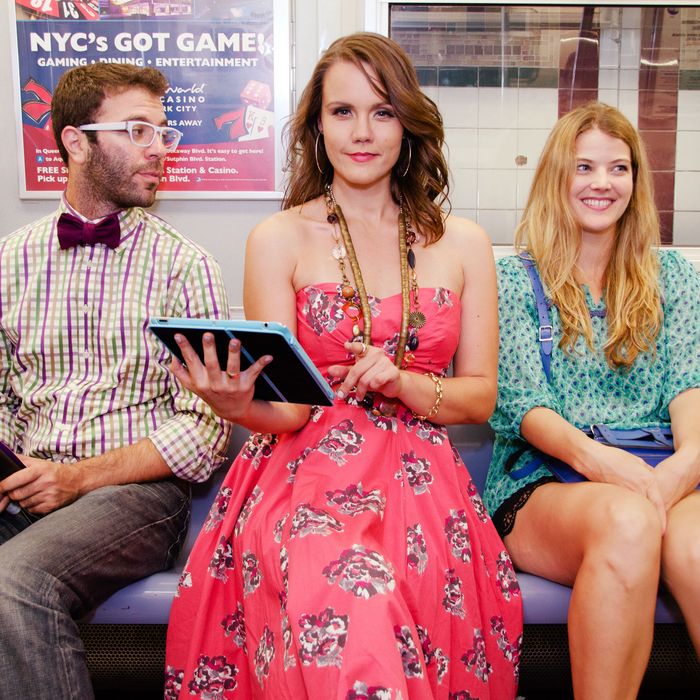 It's a bitterly cold winter night in Harlem and I'm cruising the streets for black men. This was no ordinary drunken-sex mission, though. Tonight, I'm co-piloting my first professional manhunt with New York City matchmaker Erika Christensen.

Known professionally as "The Love Conductor," the 31-year-old has the perfect personality for this line of work. She's charming, spunky, and positive, like an overwhelmingly likable aerobics instructor from the eighties. It also doesn't hurt that she's approachable and pretty in a Wasp-dream-girl sort of way: ski slope nose, light hair and eyes. Within five minutes of hanging out with her, I lose all journalistic decorum and confess, "I really want us to be friends."

Erika has been matchmaking (pro bono) since college, but went professional last year. "I set my best friend up with the guy she married and I just started thinking, 'This is something I could really do.'" The prophecy was fulfilled when she sent a fan letter to her mentor, the advice columnist E. Jean Carroll. Carroll wrote back immediately and they ended up talking on the phone for three hours about starting a business and dating. Soon after, Erika made a business plan and Trainspottings, a boutique matchmaking business, was born.
As her website explains: "The Love Conductor is the first matchmaker to go underground — targeting New York's 1.6 billion subway riders, many of whom are the most alluring, creative and energetically sexy on earth." You sign up online and fill out a questionnaire, then Erika will call to get your vibe and figure out what you're looking for. She rarely meets clients in person, but once she has a clear idea of the kind of mate you're seeking and some photos of you, she'll hit the subway (as well as streets and bars) approaching total strangers that fit the bill.
Most matchmakers focus on hooking up rich people, charging thousands of dollars, but Erika goes as low as a measly hundred bucks. Using a sliding scale, she sets rates depending on how hard it will be to find dates for a particular client. Recently, a guy from Connecticut was eager for her services, but she only works in New York City, so she charged him $500. "I have another guy, 29, really cute, has a great job, and lives in Brooklyn. I charged him $100 for two months because I'll be able to send him on as many dates as he wants to go on." All participants pay up-front and there's no set number of dates per package: She promises a certain number based on each person's datability, then keeps working until she delivers.
On this particular evening we were looking to match up a successful, attractive, middle-aged black woman. "My client is looking for a 35 to 45 year old, professional man who is tall, because she's got some height, and someone of color because she's not interested in being 'a tour guide' to her culture," she tells me. Fair enough. Our goal was to find a man who was literally tall, dark, handsome, financially successful, and above all, single. What you might call a unicorn.
Since Erika and I both live in Greenpoint, we meet at the Bedford L stop and head uptown. On the platform, Erika passes by a cute guy sitting on a bench reading a book and casually drops a card into his lap. It reads: "You've been spotted" and includes her website address. "I don't know, I just liked his face," she tells me. "But I'll be honest," she adds, "there's a lot of 'too cool for school' going on on the L. It's not just attractiveness that I'm looking for, it's also a certain kind of friendliness." Bangs and beards, take note.
Our first actual stop of the evening is the Columbus Circle ACE platform. "This is a great place to spot men just getting off of work," she says. "I'm looking at their fingers to make sure there's no rings." She looks for men wearing shirts, ties, and nice shoes. I spot a hot young black hipster with tattoos and skinny jeans, but Erika shoots me down. "Not what the clients wants." Who said anything about a client?
As we stand around the uptown platform, I look for our target demo, like a live-action Where's Waldo?, except in this case, Waldo is Tyrese. I see a tall guy in a trench coat and point him out. "What about him?" Erika beelines over and motions for him to take off his headphones. He looks suspicious. When Erika is pitching strangers she's like Jim Carrey in Ace Ventura when he spews that epic monologue without pausing to take a breath. "Are you single? I'm a matchmaker. I have a client who is looking for a man exactly like you. Are you interested? You're so handsome." At first the man seems apprehensive and responds "Why?" when asked "Are you single?" I'm sure he thinks he's being punked. But when Erika shows him her cards, he realizes she's for real. Unfortunately, he's not available. "If you have any friends that are exactly like you, have them contact me, okay?" The man blushes and politely takes the card.
If I think a guy is cute, I'll just talk to him, so watching Erika work was not exactly a revelation. But it is still inspiring to watch someone effortlessly connect with strangers, especially in New York. People engage with her because she's not hitting on them for herself. There's a buffer because she's working on someone's behalf. Before I met Erika, never in a million years would I have considered hiring a matchmaker — it seemed so desperate. But compared to online dating, which can sometimes also cost money and feel even more like Russian Roulette, having an awesome lady hunt dates for you isn't a bad option.
Since the client we were working for this evening spends all her time uptown, we decide to head to 116th Street to check out a bar called Harlem Tavern. Erika does most of her people-spotting randomly throughout the day, but sometimes she will go to a particular bar or neighborhood to find people. When we arrive at the bar, we peek through the window and spot a sea of white faces. Onward.
We stumble upon a packed, raucous Karaoke bar called Cove Lounge. After walking for hours with no luck, we decide to just get drunk on gin gimlets and make friends with a gorgeous, smart black man who we quickly learn isn't single. We all become friends almost immediately after giving him her spiel, and it's clear that Christensen must make a ton of friends on the job. In the next few days, she'll continue to hunt for her client. But for now, she decides to sing an Adele song, with an impressive America's Got Talent–style R&B voice. People stand on tables and clap. And during the instrumental break, not missing a beat, she pitches the crowd like a car salesman: "By the way, I'm a matchmaker, if anyone here is single, come find me. Let's get you a date."