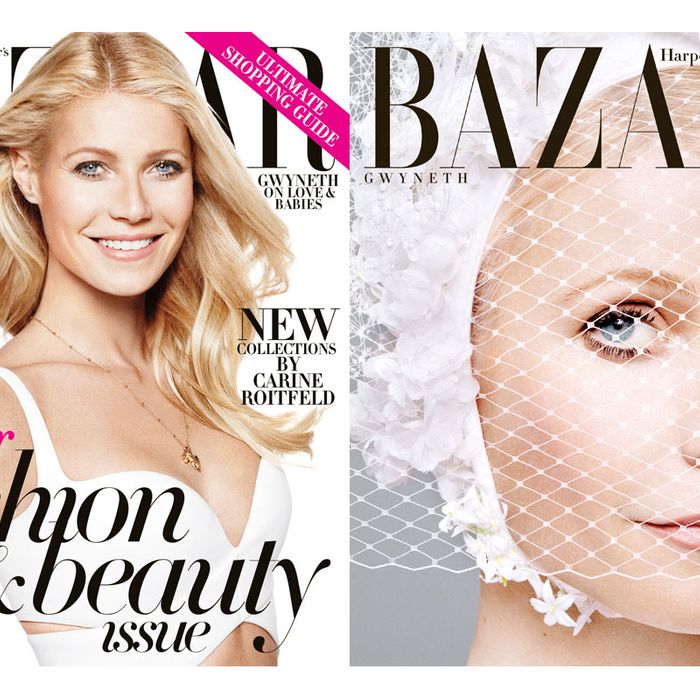 Gwyneth Paltrow.
Photo: Courtesy of Hearst
Gwyneth Paltrow covers the May issue of Harper's Bazaar wearing that white crop top from Nicolas Ghesquière's final Balenciaga collection (don't worry, KStew, we know you hit it first). The corresponding interview focuses mostly on how she looks like she does, because the world never tires of the subject, and Paltrow plugs the usual things like organic food, expensive dermatologists, laser treatments, Tracy Anderson, blah blah, etc. But then she adds: "It's what makes life interesting, finding the balance between cigarettes and tofu." Wait, cigarettes? "My one light American Spirit that I smoke once a week, on Saturday night."
How interesting. Most celebrities — and people in general — who smoke strictly once per week would probably say they've "quit." Let's explore this: Does she look forward to her Saturday night smoke from Sunday onwards? What happens if Saturday happens to be a bad time, because she's on a flight or something, so she'd rather do it Friday? Is it Saturday night at a hard 9 p.m., or does she cheat sometimes and sneak it in a little early, like after her 4 p.m. avocado smoothie? A GOOP: Cigarette Edition might be in order for tips on how to fit moderate smoking into one's work/life/workout balance.
Anyway, back to Paltrow's dermatological practices: "I would be scared to go under the knife, but you know, talk to me when I'm 50," she says. "I'll try anything. Except I won't do Botox again, because I looked crazy. I looked like Joan Rivers!" Of course, she's too smart to identify when this was, so we can't confirm or deny it.