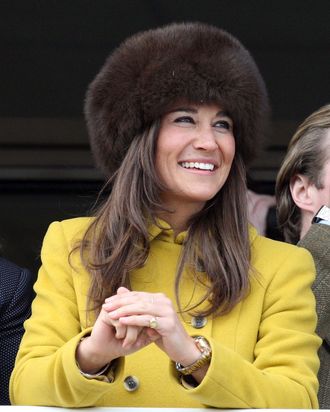 Pippa Middleton.
Photo: Danny Martindale/Getty Images
Pippa Middleton wrote about her recent ski trip, a five-day cross-country schlep called the "Haute Route," in her new column for British conservative magazine the Spectator. In all honesty, we were certain it would be full of annoying stories about physical hardship ("and then my binding got stuck on my furry sock") punctuated by the occasional product plug ("luckily, I had my [insert brand name] gloves to keep me from dying of frostbite"), etc. And yes, there was some of that, but overall the piece was quite charming, and even funny, in a self-deprecating, Hamish Bowles–y "Vogue made me do something embarrassing" kind of way. She even makes a joke about her book:
What made my rucksack so heavy? Well, I had to pack my Cheltenham fur hat, various other bits of clothing that PR people have sent me, and several signed copies of my book Celebrate. No, not really. In fact, it was mostly taken up with various crampons, a harness with karabiner, avalanche probes, snow shovel, ski skins, and the all-important under-thermals.
She also recounts how cute their guide Matthieu was, how their sleeping quarters "stinks of sweat and boys," and how she consumed lots of energy-gel packs, which she likens to "drinking mayonnaise in a Frubes packet" — all while sounding rather jolly. She also says she drank lots of wine when they finished the trip and got a hangover, which wins her fun points too.
But best of all, she concludes her maiden column by challenging London's mayor, Boris Johnson, to a game of Ping-Pong, which he has since accepted! How amusing. Now her next column topic is all taken care of, and we're actually quite looking forward to it.