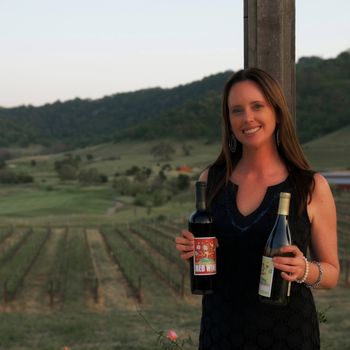 Photo: BJK/Kramer Photography
Two years ago, Cheryl Durzy, a wine industry veteran and mother of two, branched off of her family-run Clos LaChance Winery to pursue her own business with moms specifically in mind. "In the wine industry, everyone has a glass of wine with dinner every night," Durzy explained. "[My son, when he was just around 2] would say, 'That's mommy's juice!' and point to my wine glass. Then my friends and I started using it, saying things like, 'Oh my gosh, I need a glass of mommy juice.'" Once her daughter picked up the cutesy term too, Durzy brainstormed a label concept and created MommyJuice Wines. Made from grapes grown in California's northern central coast, it's dedicated to mothers who enjoy a glass or two at the end of a particularly stressful day. A bottle of MommyJuice costs $10, and the motto reads: "Put your kids to bed and have a glass of MommyJuice."
The label currently sells two wines called MommyJuice Red, a blend of bright berry fruits (Mr. Durzy's preferred drink) and MommyJuice White, an unoaked Chardonnay from Monterey. Just after Mother's Day, the label will release a dry rosé wine called "Pool Party Pink." The Cut caught up with Durzy to discuss everything from her balancing work and family life, dealing with mothers who are staunchly against drinking, and navigating her way around the wine industry.
What role do you hope MommyJuice has in mothers' lives?
I was doing research online and there's a number of different groups on Facebook like, "OMG I Need a Glass of Wine or I'm Going to Kill My Kids," or "Moms Who Need Wine," that have over half a million [members]. I was inspired by that. These are women who can say, "You know what, I'm not perfect. Sometimes I need something to help me relax because my kids drove me nuts for the whole day. I'll have a glass of wine and that's okay."
There's so much talk about mothers balancing their lives. How do you do it with MommyJuice? You're still working at Clos, running this venture, and raising a family.
I have a great husband who helps out quite a bit. We both work full-time, so it's a lot of "You do this, I'll do that." I have my family close by, which is also great. My parents are very close with both of my kids, so they help us quite a bit when we have work stuff going on. I don't know if I necessarily do balance it. I'm kind of crazy all the time, but that's okay. Also, because my job is in wine and it's part of my life, I don't have a strict 9 to 5 schedule. I get things done when I get them done.
There's also a lot of groups who see MommyJuice as promoting alcholism. What are your thoughts on that?
When you have a glass of wine, it doesn't necessarily mean that you're drinking to get drunk. Wine has been part of culture for thousands of years. Yeah, there are people that have a problem with it, and I'm not targeting them. Actually, no alcohol producers are targeting alcoholics. That's like saying food shouldn't exist for people who have a problem with overeating. I stress that people shouldn't drink heavily in front of their kids. The bottle even says, "Put your kids to bed and have a glass of MommyJuice." I don't think getting loaded around your kids is a good idea. But at the same time, I don't think having one glass of wine is getting loaded. My kids know about [wine] because it's a great part of our family. The other thing I would say is, "Do people ever get mad at dad when he drinks a beer after work?" So for me, when people say that, it's kind of a double-standard.
When did you get into wines?
When I was in college, all I would drink was beer and Amaretto Sours. I wasn't into wines. Then I lived in San Francisco for three years, but everyone drank beer — there wasn't even a cocktail culture at that point. When I first started getting into wine, I took a three-week wine course up at UC Davis called the OIV marketing program. Then I went and got my introductory certificate at the Master Sommelier Guild, and eventually got an advanced certification in the WSET (The Wine and Spirit Educational Trust).
What have been some of the funniest reactions you've gotten to MommyJuice?:
One distributor said to me, "I can't carry this wine, it sounds like breast milk." I said, "You know, I don't think that would happen, because they don't sell breast milk in stores." I also had a woman e-mail me and say, "Shame on you. How could you make a wine that kids think is for them?" I said, "How about you keep the booze locked up from the kids? I teach my kids that it's not for them." And some people think it's too cutesy. But I think the wine industry is supposed to be fun, so let's have a sense of humor!
Does your husband drink MommyJuice?
Oh yeah, he loves it.