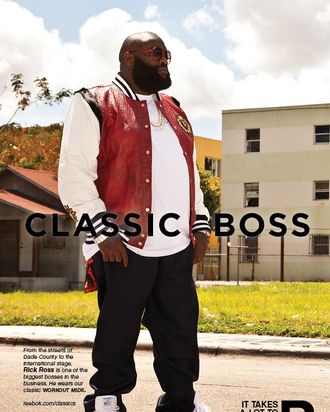 Yesterday, a group of protestors stood outside Manhattan's Reebok Fitness Hub on Fifth Avenue in an attempt to deliver a petition signed by 72,000 people who think the brand should drop Rick Ross as spokesman of its Classics line of sneakers. According to Fashionista, women's rights group UltraViolet picked up the cause earlier at the beginning of the month after the release of "U.O.E.N.O." by Rocko featuring Future and Ross. In the second verse, Ross raps:
That n*gga sold you that re-rock, you ain't even know it/
I die over these Reeboks, you ain't even know it/
Put Molly all in her Champagne, she ain't even know it/
I took her home and I enjoyed that, she ain't even know it
"Molly" is MDMA in powder or crystalline form and Reebok really should have kept listening to the song after its name-drop. By way of explanation, Ross told New Orleans radio station Q93.3:
I want to make sure this is clear, that woman is the most precious gift known to man, you understand? It was a misunderstanding with a lyric, a misinterpretation where the term rape wasn't used. I would never use the term rape. As far as my camp, hip hop don't condone that. The streets don't condone that. Nobody condones that. So I wanted to reach out to all the queens that's on my timeline, all the sexy ladies, the beautiful ladies that have been reaching out to me with the misunderstanding. We don't condone rape and I'm not with that.
He also tweeted:
But more disappointing than Ross and the whole misunderstanding is Reebok's non-response. When Fashionista spoke with UltraViolet's co-founder Nita Chaudhary on Thursday morning, she said Reebok hadn't been in touch with her, and writes WWD, which covered the protest, the petition was never delivered:
Reebok security men blocked the entrance.

Asked why they wouldn't let a woman into the store to deliver the petition, a security guard replied, "Because there are customers in the store."
Maybe UltraViolet can send one of the queens that's on Ross's timeline, one of the sexy ladies, the beautiful ladies, to Reebok's CEO with the signatures.