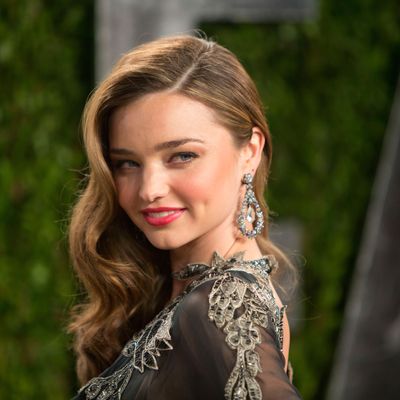 Miranda Kerr.
Photo: ADRIAN SANCHEZ-GONZALEZ/AGP/Getty Images
Miranda Kerr's $1 million, three-year contract with Victoria's Secret supposedly won't be renewed, Us Weekly reports, due to the model's "difficult reputation" and flagging popularity. Us's source adds that Kerr is "not a big seller for VS" anymore, unlike other mainstays like Alessandra Ambrosio and Candice Swanepoel. 
But just because her contract may be up doesn't mean the world will be deprived of her spray-tanned contours anytime soon. Victoria's Secret CMO Ed Razek reassured Us that he has already invited Kerr to work in the 2013 runway show (does he personally summon the angels, one by one?), so she'll be there. And while he wouldn't confirm or deny the contract rumor, he said they "have no plans to stop working with her," which could mean she'd simply do catalog shoots for a day rate instead of a contracted sum. A day rate! She probably commands a handsome fee, but still, doesn't it sound undignified?