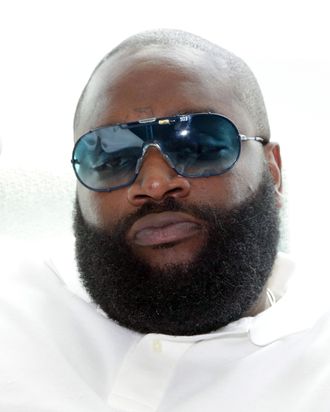 Photo: Alexander Tamargo/Getty Images
Given his regular facial expression (bonus: zoom in to see the tattoo of Florida on his forehead), it's difficult to guess what's going on inside the mind of Rick Ross. But TMZ describes Ross as both "crestfallen" and "bitter" after Reebok dropped him as the spokesman for its Classics line of sneakers last week.
Though the rapper apologized for his "Put Molly all in her Champagne, she ain't even know it/I took her home and I enjoyed that, she ain't even know it" lyrics on Twitter and sort of tried to explain himself on a New Orleans radio station, he issued his most heartfelt statement post-firing:
"Before I am an artist, I am a father, a son, and a brother to some of the most cherished women in the world. So for me to suggest in any way that harm and violation be brought to a woman is one of my biggest mistakes and regrets. As an artist, one of the most liberating things is being able to paint pictures with my words. But with that comes a great responsibility. And most recently, my choice of words was not only offensive, it does not reflect my true heart. And for this, I apologize. To every woman that has felt the sting of abuse, I apologize. I recognize that as an artist I have a voice and with that, the power of influence. To the young men who listen to my music, please know that using a substance to rob a woman of her right to make a choice is not only a crime, it's wrong and I do not encourage it. To my fans, I also apologize if I have disappointed you. I can only hope that this sparks a healthy dialogue and that I can contribute to it." —William Roberts (a.k.a "Rick Ross")
According to TMZ, he "is telling people he was entitled to corporate forgiveness because he did so much for the brand … bringing classic Reeboks back in style in the hip-hop community," and stands to lose $3.5 to $5 million; but it's 50 Cent making fun of him that really hurts.