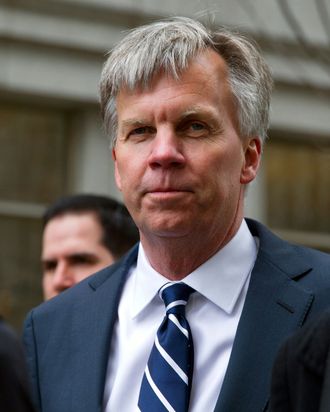 Photo: Bloomberg/Getty Images
After a rough year and a half that saw fewer sales, fights with Martha Stewart and Macy's, a proposed $800 million makeover, more sales, and the openings of shop-in-shops and Bijoux Bars, Ron Johnson is stepping down as CEO of J.C. Penney and being replaced by Myron (Mike) E. Ullman, III, CNBC reports. Ullman previously served as the chain's chief executive from December 2004 through October 2011, until Johnson's arrival.
In a press release, Thomas Engibous, chairman of the company's board of directors, said, "We are fortunate to have someone with Mike's proven experience and leadership abilities to take the reins at the Company at this important time. He is well-positioned to quickly analyze the situation jcpenney faces and take steps to improve the Company's performance." Engibous thanked Johnson "for his contributions while at jcpenney and wish[ed] him the best in his future endeavors." He's welcome at the Bijoux Bar anytime.