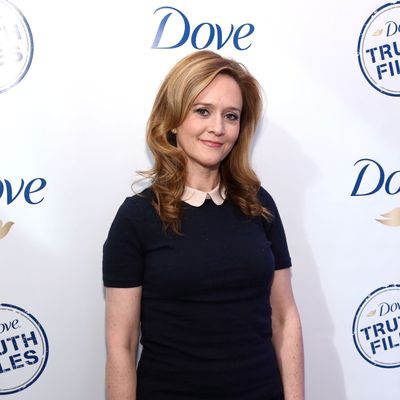 Photo: Neilson Barnard/Getty Images
"Welcome to my boudoir," said Samantha Bee, most senior correspondent of The Daily Show With Jon Stewart, as she ushered me with arms outstretched into her makeshift lounge behind the scenes at Dove's Truth Day event. The Canadian comedian, known for her satirical on-camera reporting at political conventions, traded in her microphone for a loofah to serve as Dove's "Truth Investigator," walking around New York City in a shower and initiating truth-themed — or real-talk — conversations with women about pop culture, dating challenges, shower habits, family, beauty, and more. Last night, the Cut caught up with Bee to discuss her beauty routines on-and-off screen, her history of tanning outdoors, and her unconventional preference for relaxation — with zombies.
You're a mother of three and you're onscreen for The Daily Show. How do you balance your beauty routine while onscreen and off? Do you do your own makeup at all?
It depends; when we're out on the field we do our own makeup, but when we're in the studio, we have a great person who does it for us, thank God! [Laughs.] I … totally don't remember my routine, even though I do it myself. I know I always wear a little bit of makeup, but when it comes down to whenever I have to be on camera and I have to do my makeup myself, I just know I haven't put enough on for sure. And I'm always right. I just pile it on until I think I'm done, and then people look at me and ask, "Are you going to put makeup on?" Somebody else always has to do it for me. But I actually love makeup. I love that stuff, so I have this desk that's just covered in cosmetics.
What's your favorite product? The one item that you can't live without?
Honestly when I wake up everyday, I should thank the universe for my husband, my family, and eyeliner. Because if it wasn't for eyeliner, what would happen? Who would I be? [Laughs.] I wouldn't even know.
Do you have a favorite brand at all?
I don't, really. I just love eyeliner. Where would we all be, really? It's a very important part of life.
Do you have any products that you secretly indulge in?
I like face oils. Well, I'm 43 now, so I'm constantly trying to find ways to reverse the horrifying damage that I did to myself when I burned myself in my backyard. You know, I'm from that generation who used to sit out in the backyard in the sunshine with foil placed on our skin to burn ourselves, specifically. So I have to make up for that. And there is not enough oil in the world to reinvigorate that skin. Once a dermatologist put this light on my face [laughs] and she showed me all the underlayers and all of the freckles underneath my skin that were just waiting to emerge, and honestly — I don't know how I get out of bed every morning.
Freckles can be cute, though.
[Laughs.] Yeah, in theory. But then again, seeing them under this horrifying, stark light in a dermatologist's office … not so much.
Who was the first woman you appreciated for her real beauty?
Oh, Lynda Carter, Wonder Woman! Actually, I can't say she was my role model. I'm going to go back in time even further and say, I had a summer camp counselor and her name was Adelle. She was just so pretty to me.

Was she also tan?
She was completely tan. She also had Farrah Fawcett hair and she wore Daisy Dukes. I was 8 or 9, but I worshiped her and we would sit by the swimming pool and I would just bring cupfuls, like handfuls of cool water to her and just splash it on Adelle's thighs to keep her cool in the summertime! [Laughs.] It was a really curious habit, but I just felt like Adelle needed to be taken care of! She was just so pretty that she needed to be cherished.

If you had to choose between great skin or great hair, would what you choose?
Oh! [Gasps] Great skin or great hair? I could never. Oh my gosh! This is a horrifying question. I cannot answer that question. I would choose medium skin and medium hair. Then I would average it out to a medium across the board.
Is there a celebrity that has a beauty trait that you admire?
Off the top of my head, I love that Cate Blanchett has an ethereal glow that never seems to go away. I wish that I could steal her essence and put it in myself.
What's your favorite beauty trait about yourself?
Hm, interesting … I love my hair. I have good hair.
Did you speak to any truth-tellers at the event today?
No, I haven't yet, not today. But I have learned some truths today. I actually learned that women take hour-long showers to relax.
What do you do to relax, after a long day of work?
I watch The Walking Dead. That helps me relax. That's my warm bath.
So how did you go about becoming Dove's Truth Investigator?
I've actually used Dove since I was a kid, I mean, I really have, so it was a really natural fit for me. I actually find their beauty bar really moisturizing and good, so I was really happy when they approached me.
Is there anything in particular you're excited about for the spring?
I bought all these spring clothes in the middle of the coldest, most dreary winter in the whole wide world, so I have a bunch of spring clothes that are ready to go. When I take the tissue papers off, it'll be like blooming tulips in my bedroom.
Do you like wearing a lot of colors?
I don't usually. Usually I'm kind of conservative. But this year, I think I need to embrace the sun. You know what I mean? It's been a really long winter. I feel like I need to dye my hair purple, I really do! I feel like I need to start dressing like an Easter egg to cheer myself up.
Any other secret beauty routines that you have?
No! I have none. I want your secrets.