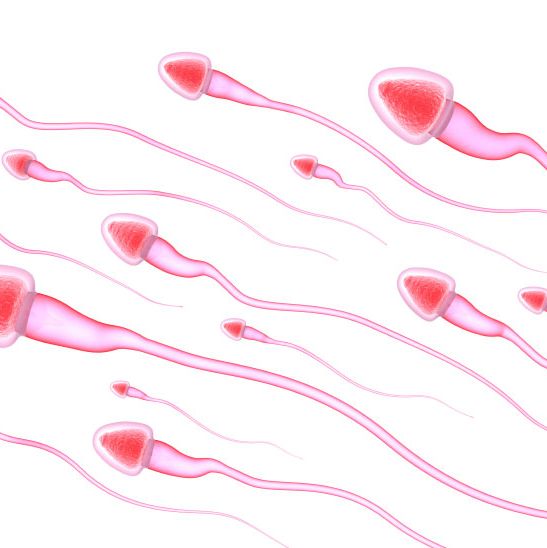 Two disturbing updates from the world of semen. First, did you know that you can be allergic to semen? Not just generally, but a specific person's? In hopes of raising awareness about seminal plasma hypersensitivity, North Carolina newlyweds "Jeff" and "Clara" brought their story to Good Morning America.
"I had this bizarre reaction," Clara told ABC of her first night with Jeff. "I had burning and swelling and redness, which was very unusual." The allergy causes other women to break out in hives, experience "abdominal swelling," and feel like there is "a needle sticking in to their vagina." After ruling out STDs, she determined that she was allergic to one of Jeff's custom proteins.
Rather than dispose of poison-penised Jeff, Clara sought desensitization therapy that is disturbingly similar to the treatment described in that big New York Times Magazine allergy story with all of the beautiful children on the cover. ABC describes:
"Clara underwent an intravaginal "graded challenge" using serial dilutions of her husband's seminal fluid, which were injected via a syringe every 15-20 minutes over the course of two to three hours."
Now Clara says she's "pretty much fine."
ABC doesn't get into the nitty-gritty of oral exposure. But if you are one of the estimated 20,000 to 40,000 women in this country suffering from seminal plasma hypersensitivity, you'll also want to avoid the Internet's new favorite fussy mixology trend: semen cocktails. Everyone else should probably avoid those, too. That will be easy because this one is less a trend than a testament to self-promotional skills of Semenology author Paul "Fotie" Photenhauer. He may be the only known sicko who could come up with, let alone consume, a "Watermelon Gin Jizz," but by the powers of self-publishing and bored food bloggers, he, too, can be a Thing.