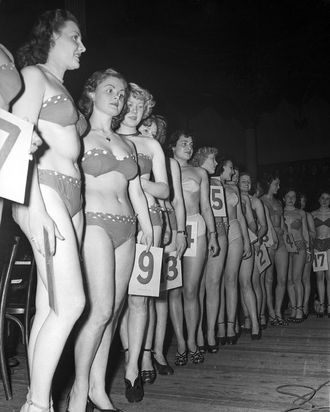 Earlier this month, The Wall Street Journal introduced readers to bikini bodybuilding, a fitness competition billed as the woman-friendly cousin of the contests that made Arnold Schwarzenegger famous. Basically, it involves strutting and posing in a bikini and high heels. Journal writer turned competitor Alyssa Abkowitz relied on four-times-a-week weight-lifting sessions and a diet of chicken and hard-boiled eggs to achieve the super-toned-but-still-has-boobs look prized by judges.
With its emphasis on "figure, body tone and poise" over muscle size (to say nothing of its eveningwear portion), bikini bodybuilding is a much closer relative of the beauty pageant — before pageants added talent portions, Q&As, and scholarships to make up for all the objectification. It's unclear how the campy relic of the pre-women's-lib era became the Iron Man for hot chicks, but it's not the first ritual of questionable sexual politics to be celebrated (Co-opted? Reclaimed?) by women under the guise of fitness.
Crunch gym recently relaunched its Stiletto Strength classes, aimed to "improve posture and strengthen the core so that you can strut in your stilettos confidently." (The class is B.Y.O. Heels.) If that's too easy, Groupon and the like are lousy with deals for stripper-inspired cardio pole dancing classes, the Female Chauvinist Pigs–era fitness trend that won't die. (Also B.Y.O. Heels.) Carmen Electra turned taking your clothes off into a sport with her Aerobic Striptease DVDs, variations on which are now taught at gyms across the country. (Heels not required.) The question is, what comes next?
Wet T-Shirt Sculpt
This aquatic aerobics class will give you the endurance to dance in a soaked cotton sheath, while providing the definition you'll need when things get clingy.
Sorority Haze Conditioning
Target "problem areas" before your new "sisters" circle them with magic marker on your naked body in front of the other "pledges"/gym members.
Revenge Porn Boot Camp
Teenagers do it. Dweeby GOP interns do it. Even Buddhists do it. Sooner or later, someone will use naked photos of you, obtained with or without your consent, to blackmail or humiliate you. And you'll be glad you got your bod extortion-ready with this full-body plyometric workout.
Hooters Obstacle Course
Love trendy, now-mainstream obstacle courses like Tough Mudder and Spartan Race? Try to score a big tip (and avoid the Buffalo wings!) with this indoor alternative, which must be completed while wearing nude pantyhose and scrunchie socks.