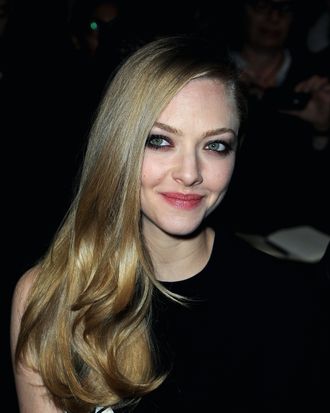 Amanda Seyfried.
Photo: Pascal Le Segretain/Getty Images
Allure's annual Nudes issue comes out next week, but cover girl Amanda Seyfried remained clothed for her shoot. Considering the photos aren't really nude, with nipples and other parts primly covered up, why was she so concerned? "I would have, but my publicist wouldn't let me!" Seyfried told the Post at a dinner for this year's issue, which is titled "Look Better Naked" and also features Naya Rivera, Jennifer Morrison, Clare Bowen, and Krista Miller.
So what was her publicist, Evelyn Karamanos, so worried about? Now that Seyfried is the only celebrity in the issue with clothes on, doesn't it look like she has something to hide? Maybe she should've just posed for a more clothing-friendly issue or trusted that Allure's crackerjack airbrushing team would be more than happy to take care of any miniscule flaws that probably don't exist anyway.