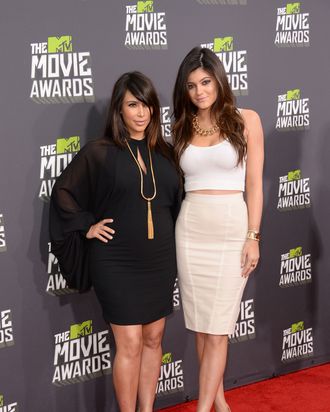 Photo: Jason Merritt/Getty Images
After baring her naked baby bump to the Internet, big sis Kim toted her youngest half-sibling, 15-year-old Kylie Jenner, to the 2013 MTV Movie Awards last night. Kim looked more comfortable than usual, showing up in an all-black, belly-accentuating dress from Hedi Slimane's first Saint Laurent collection, complete with the gold tassel-necklace (no floppy hat, though). Meanwhile, young Jenner towered over Kim and wore all white, pairing a tight crop top with a cream midi-skirt. They topped off their looks in trademark Kardashian style: with smoky eyes and slightly parted lips for the cameras.
Update: This post has been changed to clarify that Kim is wearing Saint Laurent.