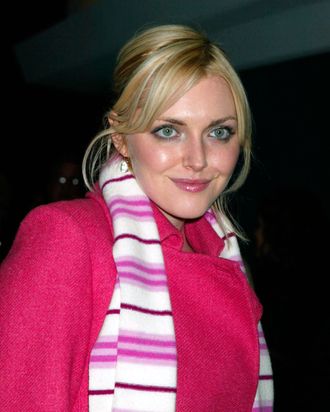 Sophie Dahl.
Photo: Gregory Pace/Corbis
Hangover outfits are a special sartorial breed. Optimally, you don't have to get dressed at all and can just stay in bed, but more often than not you have to venture out for morning-after activities like brunch. The act of putting clothes on with a headache is daunting in itself, but there's the added conundrum of wanting to dress for comfort without looking like the train wreck that you are. Therefore, model-turned-writer and cookbook author Sophie Dahl's marketing strategy for her capsule collection with British cashmere brand Brora is rather brilliant — called "The Lost Weekend," it's a line of clothes specifically for the days when you wake up all woozy in someone else's bed.
Dahl describes the inspiration for her new thirteen-piece line, out on April 15, to British Vogue:
I imagined it as the-morning-after-the night-before — a woman on an island after a party, walking home with her shoes in her hands … Everything around her quite wild and undone, but she's wearing these quintessentially British-feeling colour tones and patterns. The picture in my head was one of rainy English summers and festivals, being tarted-up and having your make-up running everywhere — that kind of vibe.
Formerly a face of Versace and YSL in the late nineties and early aughts, Dahl is the granddaughter of author Roald Dahl and dated Mick Jagger for a time, so she's probably had her fair share of morning-afters, and is one of those maddening women who actually looks sexy with messy hair and mascara all over her face. How clever of her to target those who need all the help they can get on Sundays — it's a woefully underserved market.