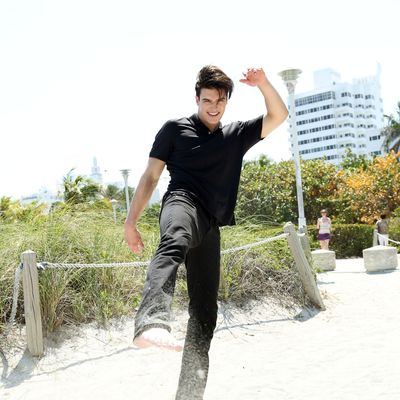 Matthew Terry.
Photo: Courtesy of Coty
In February, Calvin Klein model Matthew Terry became a national celebrity in less than ten seconds when his shirtless torso rotated across American TV screens during the Super Bowl. The Internet drooled over his abs, and a star was born. His Calvin Klein underwear ads quickly spread to billboards and taxi TVs, and soon he landed the golden apple of modeling contracts: a campaign for Calvin Klein's Dark Obsession fragrance. "The Super Bowl turned my life upside down," Terry told us via Skype from Miami, where he was doing a press tour. "When the ad came on, my phone didn't stop ringing for fifteen minutes."
Two months since that night, we caught up with the 20-year-old native of Ocean City, New Jersey, about his burgeoning fame, his new girlfriend, and what it's like to get hit on by men and women wherever he goes. You can also enjoy a photo diary from his Miami weekend in our slideshow (don't worry, there are abs).
Did you work out extra hard to prep for Miami?
Not really, I usually just stick to my same regimen. I do a lot of circuit training. You know, real intense, not a whole lot of breaks, for like an hour, and then I'm usually good. Sometimes I'll play a sport, like basketball, and sometimes I'll go back to the gym twice a day.
What do you do in between workouts, normally?
I just hang out with friends or my girlfriend. If it's nice outside, I'll go skate or longboard in the streets. I also play music, guitar and drums.
How did you meet your girlfriend?
We actually knew each other back in high school. Then there were some complications, and we didn't talk for several years — three and a half years, I think — and then I went to a concert a few months ago and she was there. We reconnected, and the spark was still there. And now we're dating.
What did she think of your Super Bowl commercial?
She thought it was pretty crazy. We weren't actually together when the commercial hit. But she saw it. She still thought it was pretty insane.
I know it's Gay Pride weekend in Miami. You must be getting a lot of attention from both women and men down there.
Just a little bit. [Laughs.]
How do you nicely turn someone down?
If someone comes up to you and is like, "I love you" — is that what you mean? I just tell them that I'm flattered, but that I'm taken. I haven't had any crazy people do anything wild yet. I'm still waiting for that to happen. Thank goodness it hasn't.
Does your girlfriend ever get jealous?
No, she understands that it's work. We have a good understanding that I'm with her, not with anyone else. So, when I'm taking my shirt off or in my underwear, she knows it's for my job. She knows that's hers and she's comfortable with it, which is really important.
You're in a band — do you write your own music?
Yeah, I have about seven or eight songs now that I wrote along with the kids that I play with. We haven't played in a little while, though, because a lot of them go to school. But I'm going to try and keep that going, so we can actually play some shows.
Do you wear the Calvin Klein fragrance every day, like even to the gym?
No, because I tend to sweat a lot, but usually when I go out, or if go hang out with my girlfriend, I'll put it on because she really likes the scent. But the gym, not so much.
What was it like to become so famous so quickly, when your Super Bowl commercial hit?
I honestly forget that it happened sometimes. I'll go home, and I'm just that kid from Jersey, and everything is back to normal. And then I'll go to the city and someone spots me in a restaurant or something, and they'll come up and talk to me and everything comes back. It's surreal. But my friends at home bust my chops. They call me Calvin sometimes, but it's all in good fun. It's humbling, because they help me keep my feet on the ground, along with my family. I'm very blessed to have that.
You have a very serious expression in all your ads. What do you think about during shoots?
I'm a really goofy person, so when I go back home, people are like, "Dude, how do you do that face?" But when I'm on set, I'm very professional. Everyone's there for the job, and there's a lot of money going into it. Sometimes the photographer helps me out. But you've got to have presence. It's a very serious, powerful look that they're trying to get.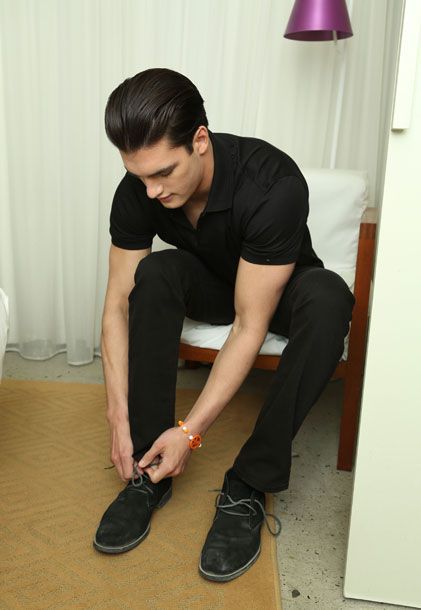 "Getting ready to start the day in Miami."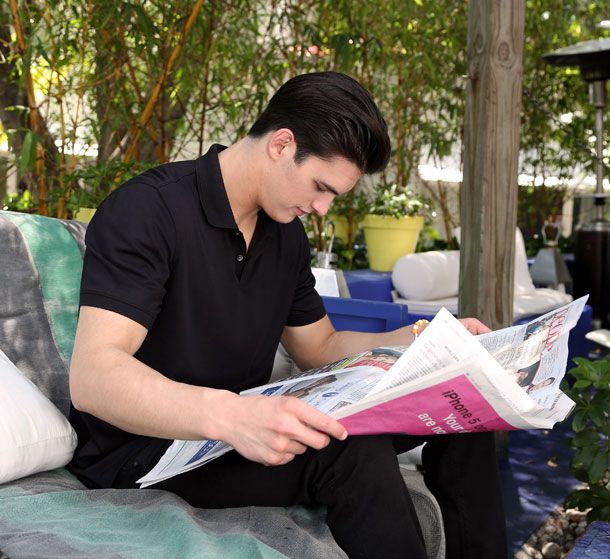 "A little quiet time outside, reading the paper before we depart for interviews. Whenever I'm traveling, I like to pick up the local newspaper to find out what's going on around town."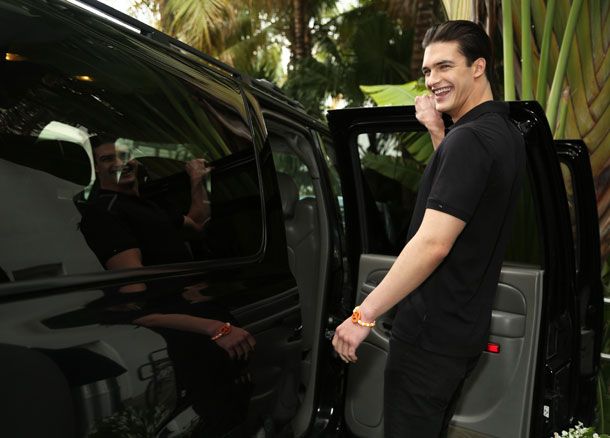 "Departing the hotel for a taping at WNBC in Miami."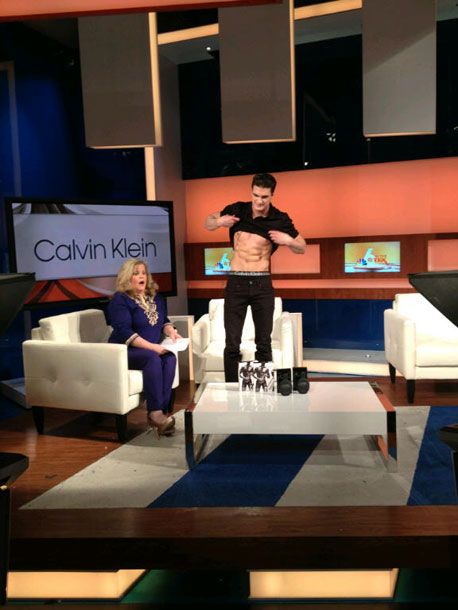 "Here I am on the set of the popular South Florida morning show, 6 in the Mix. It's always interesting to see the reaction when people ask to see my abs. Keeps me honest at the gym!"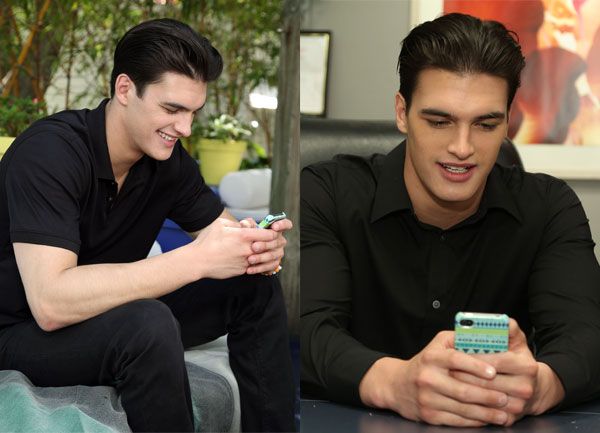 "Checking my e-mail and checking in with my mom — she still likes to be updated on what I'm doing."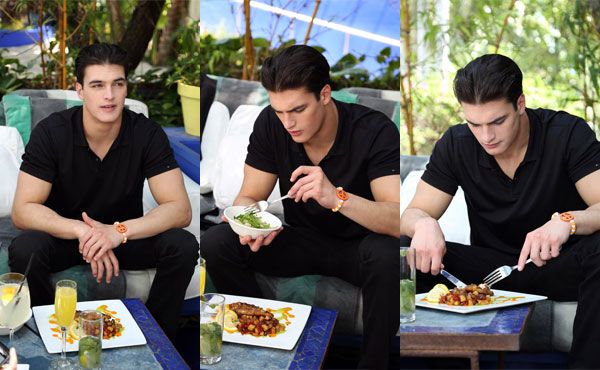 "Enjoying an early lunch of fresh snapper poolside at the Shore Club. When I'm working, I always try to eat healthy and watch my diet."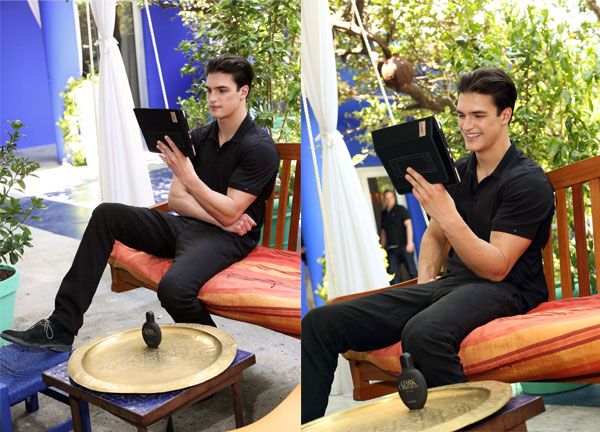 "Chatting with Charlotte from NYMag.com over Skype — while sitting outside on a bench swing."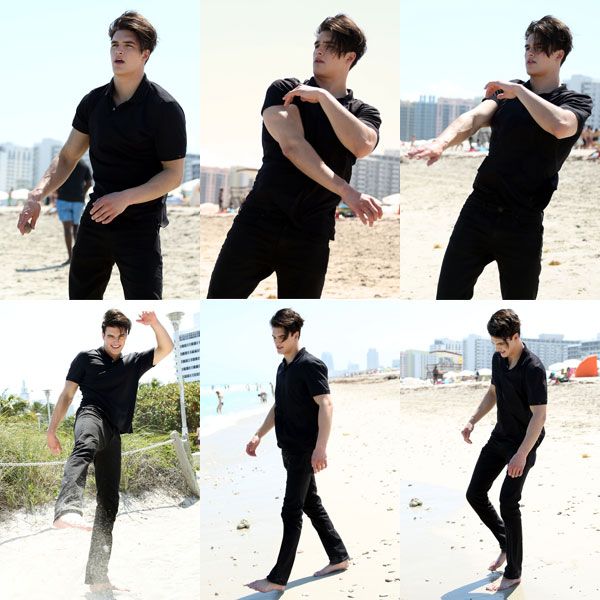 "Taking a quick break to walk on the beach and enjoy the fresh air in between interviews. I live in Ocean City, New Jersey, so I love being by the beach."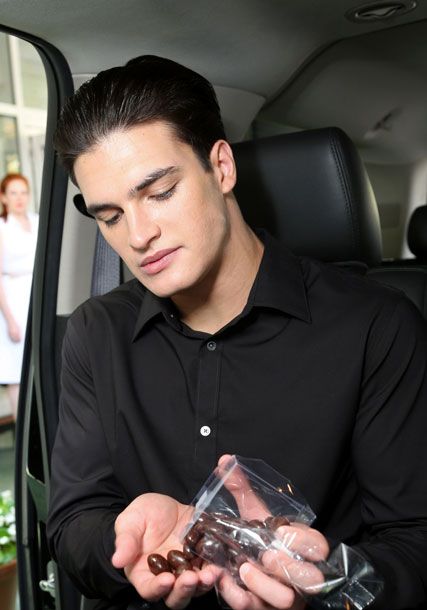 "Sneaking in a snack: dark-chocolate-covered almonds — my favorite indulgence."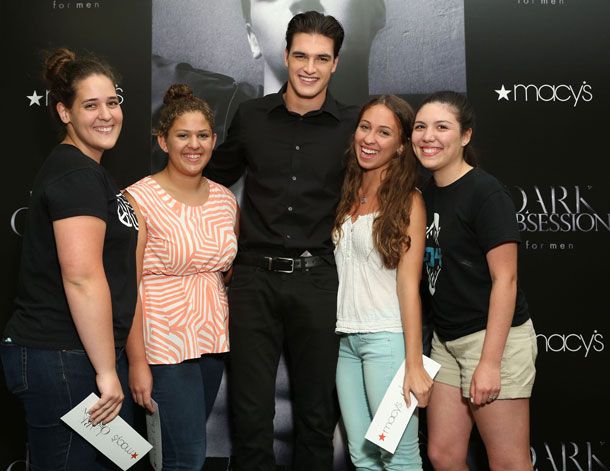 "All in a day's work."