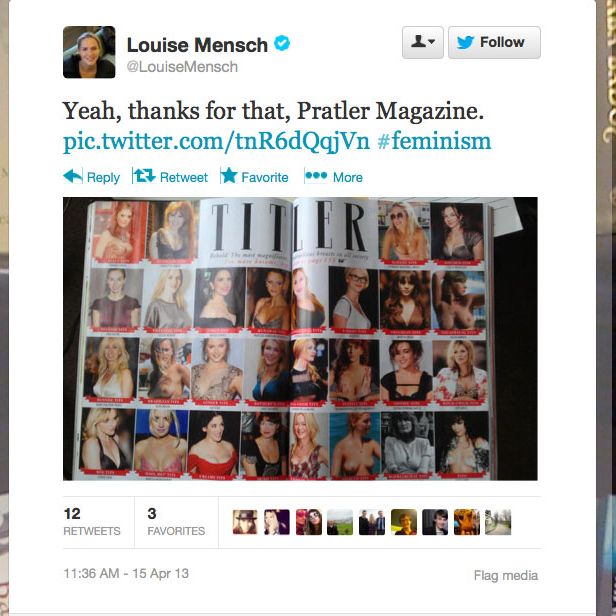 Photo: Louise Mensch/Twitter.com
Inside the May issue of Tatler is a three-page feature called "Titler: Best Society Breasts," comprised of photos of 34 women and either their décolletage or bare chests, each ascribed a superlative. There's Helen Mirren (Theatrical Tits), Helena Bonham Carter (Gothic Tits), Princess Eugenie (Royal Tits), Lily Cole (Ginger Tits), and Princess Charlene of Monaco (Runaway Tits). While the Daily Mail doesn't judge — sure, Tatler's "not the first place one might expect to encounter a list rating women's breasts," but the magazine "faces accusations of dumbing down" — it points readers to a protest-y "No to Titler at Tatler" Facebook page. And former member of Parliament turned Sun columnist Louise Mensch slammed "Pratler" multiple times on Twitter. (She's on the Titler roundup as Tweeting Tits.)
As Alexandra Jones, who is "not down with demeaning and degrading" the ladies, writes for the Guardian:
The thing is, Tatler is staffed by women, almost exclusively, and so it's safe to say that they have tits of their own. Their feature might have been misguided in its assumption that everyone would find it as much of a right-rollicking laugh as they do but that doesn't mean that they weren't seriously trying to celebrate "the most magnificent, marvellous breasts in all society". Barer boobs than these have, after all, become de rigeur in the fight for feminism. Just look at Femen.
A valid point; however, Femen skips the nicknames. Jones continues, "Whether you believe that Tatler is just embracing its feminist side … or not, it'd probably be best for the crew to apologies to any offended boobs, although I doubt there are that many." Eh, I'm not so much offended as I am sick of the word tits now.