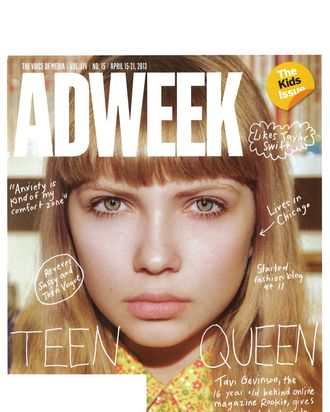 In a Q&A in Adweek, the 16-year-old fashion wunderkind from Oak Park, Illinois, who as a bespectacled preteen was among the first crop of bloggers to type their way into coveted fashion week front-row seats, chatted from her home about her evolved state of existence. Most notably, Tavi Gevinson is no longer the clothing-obsessed "Style Rookie" that once catapulted herself into the fashion — and cyber — spotlight at the tender age of 11.  She's a high school junior (who also happens to be a media mogul) attending class by day, playing an impressive balancing act, and moving past the frivolity of photographing herself getting dressed on the regular.
This fall, she voluntarily skipped out entirely on fashion week festivities. Could it be that the bright-eyed Tavi has outgrown fashion? On her most recent Style Rookie post celebrating the "blob"'s fifth anniversary, she wrote, "I don't feel like I have much to say, or rather, I prefer now to say it in private. My most recent journal is my favorite thing I've ever made, and nobody will ever see it." She admits in the Adweek article, "I did have an experience at Fashion Week my freshman year of high school where I realized how that world can make you so caught up and anxious about how you come off that you can't really see outside of yourself, and I was just like, this is bad. I would like to avoid this." So her game plan for now: distancing herself from fashion in favor of writing about culture-at-large, loosening her grip on Rookie, hanging with her boyfriend, and rejecting wrinkle ads. Below, some choice gems from the interview.
On balancing her time between Rookie and life:
"The first year, I read everything before it went up. Recently, it got to the point where I was extremely exhausted and had to reevaluate and reprioritize. But at the beginning of each month, I decide on the theme with our editorial director Anaheed [Alani], and she'll ask me what kind of aesthetic I'm into now, we'll find a theme that goes with it, and I'll make a mood board and send our staffers a bunch of thoughts that I have for what I want them to write about."
On running a business that can sometimes get gross:
"All the ads go through me, and any ideas that we come up with for [advertising] content that's not just banner ads goes through me … We have vetoed some things, like anti-aging, wrinkle shit. I'm like, "Why would we be selling this to 13 year olds?"
On the oftentimes odd relationship between fashion and feminism:
Oh, totally. Sometimes I even still get embarrassed when people are like, "You have that blog, right?" And I worry that they'll think I'm shallow because I write about fashion, or used to. I definitely think that fashion and feminism can be friends. I even think that fashion can be a tool of feminism and of self-expression and individuality and empowerment. But clearly there are flaws with the industry that still really grind my gears.
But don't worry: The photos show Tavi still loves Rodarte.