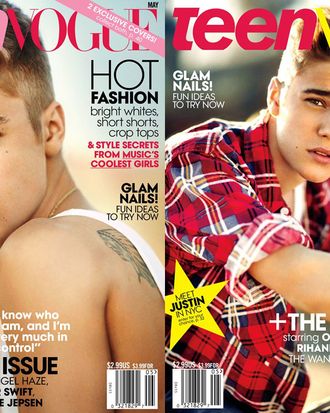 Deep breaths, Beliebers — the drop-crotch-pants-wearing demigod is featured on both covers of Teen Vogue's May "music issue." Next to the headline "JUSTIN'S CRAZY YEAR!" and the quotation, "I know who I am, and I'm very much in control," Bieber poses in a white tank top for one photo and a plaid button-down for the other. Though we're unable to see his trouser selection, we're guessing he went with his faux-money-in-his-pocket sweats or cube pantaloons.
As WWD points out, Bieber first fronted the magazine in October 2010, but for the last two years, his visage hasn't done much for print sales: "In 2011, he was Vanity Fair's worst seller and sold five percent below average for Rolling Stone. Last year, he was Rolling Stone's worst seller in the second half, according to the Alliance of Audited Media." Teen Vogue probably hopes post–Selena Gomez Bieber and his U.K. hospitalization, topless TSA treat, neighborly spitting, and German monkey abadonment will a good cover story make.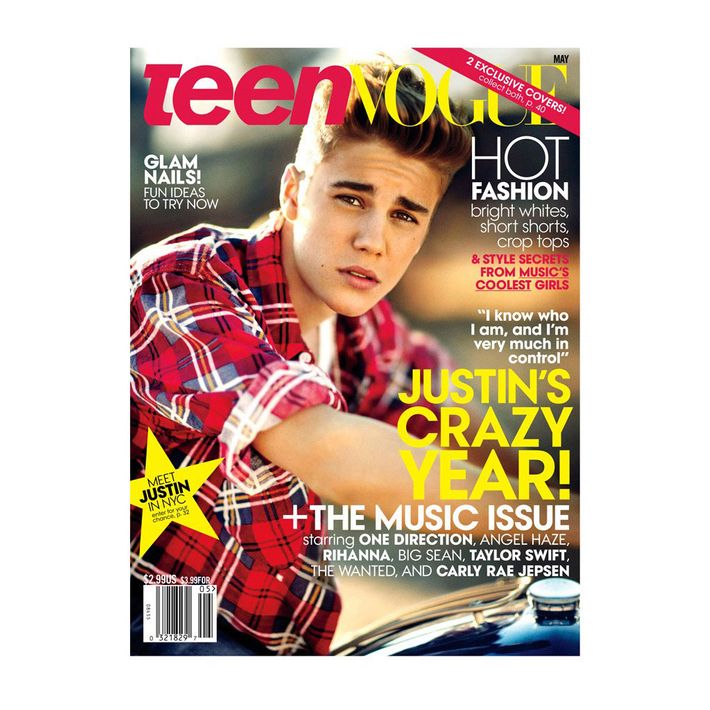 A Bieberism from the accompanying article, courtesy of WWD: "I don't need to address every speculation. Remember when Cam'ron dissed Jay-Z? Jay-Z didn't even respond. Why didn't he respond, because he's Jay-Z." Does that make us Cam'ron?