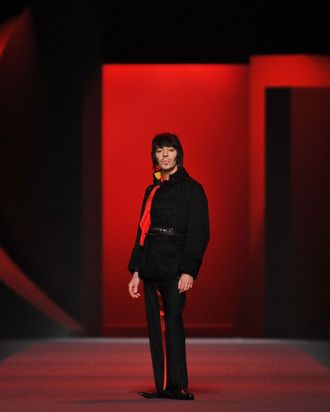 Photo: Pascal Le Segretain/Getty Images
Following Sunday night's announcement that John Galliano is leading a master class entitled "SHOW ME EMOTION" at Parsons the New School for Design, an anonymous change.org user started a petition against having the ousted Dior designer teach at the school. It reads, in part:
It doesn't matter if its for three months or three days, hiring someone who has made such horrific comments shows that the school values Galliano over their entire Jewish student body. It shows they value him over their students' respect, peace of mind, and heritage. […]
We do not want money from our tuition going to this kind of person. We feel like we've been slapped in the face by our school. There should be no room for this kind of person as a staff member on the faculty at Parsons.

Imagine if the school were hiring a person who publicly voiced support for the KKK — there would likely be backlash because it's not right to have someone like that teaching at a school. But because this is someone who has made anti-Semitic remarks, people are willing to look the other way.
The document is electronically signed by nearly 300 people, including alumni, parents, the president of the Jewish Student Union (the oldest and largest club on-campus), and folks from the outside world. It's unclear what effect, if any, the petition will have on Galliano's budding professorial career; when contacted by Fashionista, Parsons declined to comment. But based on the we — "We do not want money from our tuition going to this kind of person" — the Cut surmises the petition was written by a student, probably an idealistic frosh who thinks this could work. College!