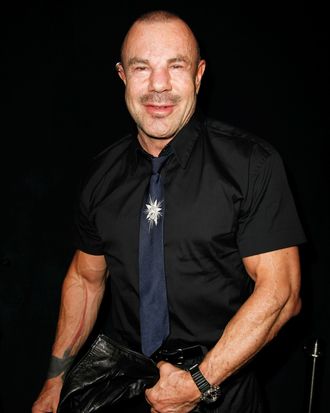 Photo: Florian G Seefried/Getty Images
Following this month's departure of creative director Nicola Formichetti, Mugler is integrating its fashion and fragrance divisions, with the help of Thierry Mugler, himself. The designer, who launched his eponymous clothing label in 1974 and developed his perfume enterprise in the nineties, shuttered his couture line in 2003. (He once said, "The reason I quit fashion was that I had had enough of spending my time always being on my knees, making other people look amazing and fabulous.") He continued to work on Mugler fragrances and created several concert looks for Beyoncé. And he started pumping iron and asked his friends to call him Manfred.
According to WWD, Thierry is now creative adviser to Joël Palix, president of Clarins Fragrance Group and director general of Thierry Mugler SAS. The trade doesn't outline his exact duties, but it does mention the house is without head designers at the moment — both Sébastien Peigné and Romain Kremer, responsible for the brand's women's and menswear, in that order, slipped out the back door. Perhaps Thierry can find some replacements or even fill in for a bit!
However, the emphasis seems to be on consolidating the operation. Thierry resigned as artistic director of Thierry Mugler Parfums and the brand plans to hire one full-time creative director to oversee the fashion and fragrance branches. Palix said in a press release: "Over the last three years, Mugler Fashion has made a visible and successful comeback, while Mugler fragrances have enjoyed a 50 percent growth in sales with both Angel and Alien now amongst the top feminine fragrances worldwide. It is time to unite both activities under one single creative management and turn Mugler into a global and fully integrated luxury brand with a synergetic approach across fashion, accessories and fragrances." The statement adds Thierry has other projects on the side, like writing and directing pieces of theater. A man of many talents, that Manfred.
* This post has been updated from its original version.