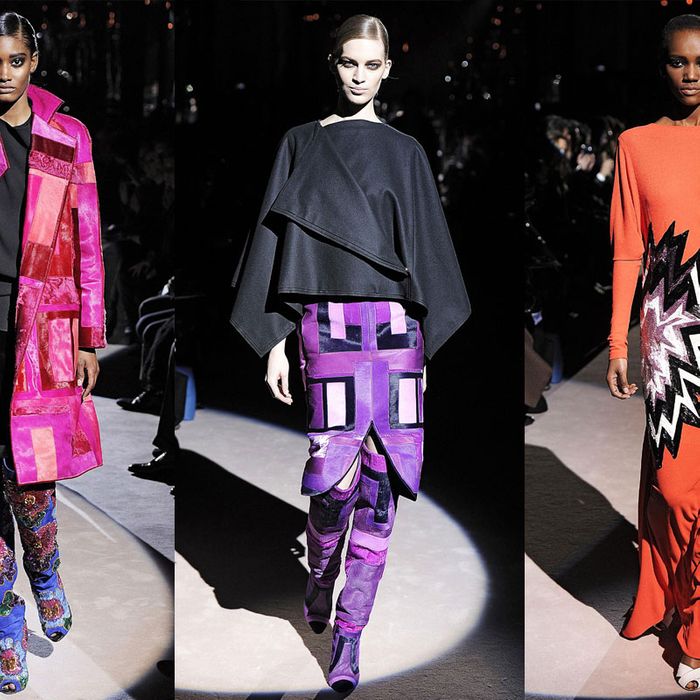 In an interview with WWD, Tom Ford talks about his time spent at Gucci and Yves Saint Laurent, his hope to lead one of the top five luxury brands within the next decade "if not sooner," and his conclusion, after seasons of stealth presentations: "I'm a showman and I felt a little sad maybe without a show." A little sad. But, the designer admits, he was expecting "a more positive reaction in a stronger way" to his return to the catwalk in February:
And what I got was a sort of stunned reaction. I couldn't read [it] when people started to come backstage — what they thought. But that simple fact was proof of not getting the reaction that I thought I was going to get. And the reviews were lukewarm. They were not "Oh my God, those are the worst things I've ever seen," but they also weren't "Oh my God, that was great." They were sort of old-fashioned reviews, like "Well, there were pink jackets."
In retrospect, Ford "chose the venue inappropriately" (the show was held at Lancaster House, a nineteenth-century mansion attached to St. James's Palace in London) and he might change two outfits if he could have a do-over; however, he believes the runway represents a "hyped-up reality." As such, he thinks more along the lines of, in his words, "OK, that's Rihanna, and she's going to her lawyer's office in that all-black outfit and she's hung over and that's why she's wearing those glasses. Yet she's still a rock star." (What an imagination!) Of course, customers can purchase the full looks as separates, and if they're still too colorful for you, it's because you need "amazing style to pull this off."
Ford also discussed his renewed relationship with the press and a review that Virginie Mouzat wrote for France's Le Figaro about his spring 2012 collection. He agrees that it wasn't his best work, but:
Virginie got personal. Her review was only a little about the clothes and a lot about me. That's what I had a problem with, and that's what I think is wrong. Really wrong. Say the clothes are the worst clothes that I've ever seen, but you don't need to start talking about the person or their personal life. It was wrong. But, I didn't ban her. I've never banned a journalist in my life. That was her opinion. Whatever, she's entitled to it. She was invited back next time.
Tom Ford wink.