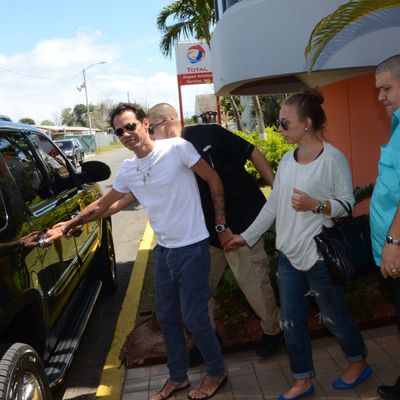 Marc Anthony and Chloe Green.
Photo: Photopress PR/Splash News
Back when he was still married to Jennifer Lopez, Marc Anthony would wake up every morning to find not just one but three possible outfits for the day, all selected lovingly for him by J.Lo herself, according to a 2011 Times profile. Having someone fabulous dress you all the time is hard to give up, so now his new girlfriend, the 21-year-old daughter of Topshop magnate Sir Philip Green, has taken over styling duties. Chloe Green, who's currently doing press rounds to shill her latest shoe line, tells Grazia that Anthony often seeks her counsel when he's deciding what to wear.
Well you get the odd question of 'Do you like what I'm wearing?' and I'm like, 'No not really'. Then he says, 'How would you wear it?' I'll then say, 'Make it a but cooler - wear it with some trainers and a T-shirt.' He's then, 'Ok, I'm not sure but if you like it, I like it.' In general I have a problem when men take longer than [me] to get ready.
As you can see above, the result of Green's outfit coaching is that she and Anthony dress exactly alike, which is understandable if she's making all the decisions, but still kind of weird. Be grateful that J.Lo didn't take the same approach.