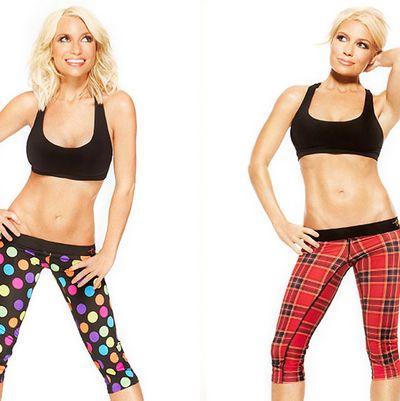 Tracy Anderson's leggings.
Photo: Tracy Anderson
With Gwyneth Paltrow's blessing, you can do pretty much anything. It makes sense, then, that fitness mogul Tracy Anderson would expand her fitness empire into the uncharted territory of polka-dotted, super-low-rise exercise leggings (also available in red tartan and black sparkles!). What's notable about these particular workout pants is the lack of fabric between one's crotch and bellybutton, allowing for maximum groin exposure. If you're going to stroll around in $60 pants that expose the belly area usually comprised of the aftermath of last night's pasta dinner, then that's good incentive to sink more money into Anderson's DVDs, nutritional shake powder, and maybe even her special branded candle. In other words, these leggings just create further demand for her other products — a brilliant business move on Anderson's part, indeed.
Anderson herself tells WWD that she designed the leggings because she got tired of seeing her clients come in wearing Spanx, which is horrifying: "When you're exercising you're supposed to be able to not feel constricted. People show up in pants basically like Spanx, but that's not the appropriate way to allow for circulation and movement." These poor women! It's one thing to worry about see-through workout pants, but Spanx? The gym should be a place where your body gets to jiggle freely, or at least be allowed to take its natural shape.
Speaking of people who don't jiggle, Anderson and Paltrow have more joint projects in the works: This summer, they'll open a clothing store next to Anderson's new Brentwood studio. Anderson describes it to WWD: "It's for the working mom who has an exercise lifestyle. I'm not going to be selling Alexander McQueen dresses." She's also developing two TV shows with Paltrow, one of which will be about … exercise! It's currently in the production stage, but she wouldn't say more.