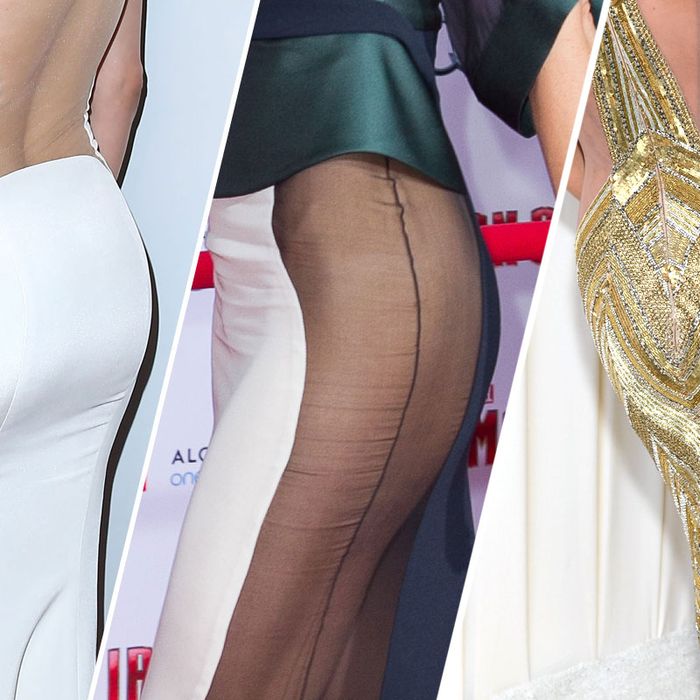 When Gwyneth Paltrow displayed her toned haunches in a sheer-paneled Antonio Berardi gown last night, she joined a resurgent red carpet trend: showing off the side of your butt. This spring, the trendiest part of the torso is the upper midriff. And the trendiest part of a celebrity's derriere is its sides.
This is the Cut's comprehensive guide to side-butt, featuring the hindquarters of Gwyneth Paltrow, Jennifer Lopez, Kristen Stewart, and Heidi Klum. Side-butt is the new sideboob.
FIVE GREAT SIDE-BUTTS: WHY THEY WORKED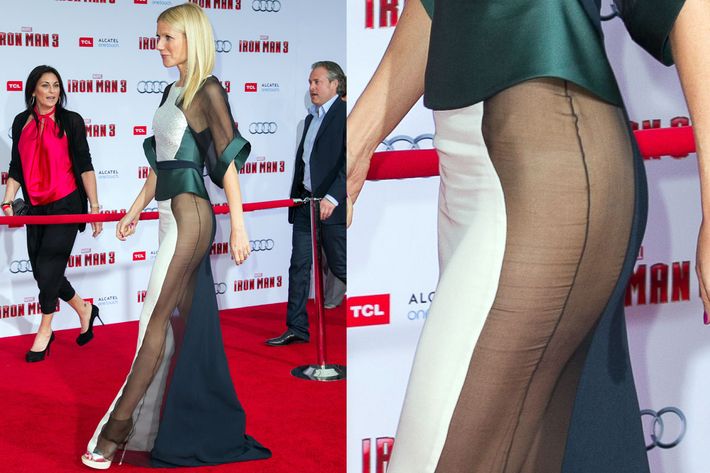 1. Gwyneth's Beautiful Side-Butt
Named most beautiful woman and most hated celebrity in the same week, Gwyneth showed the beautiful sides of her body from waist to toe at the Iron Man 3 premiere. Her unapologetic body-flaunting could be interpreted as a cheeky joke for her haters: "Kiss my flawless yoga-toned ass," this dress says to them.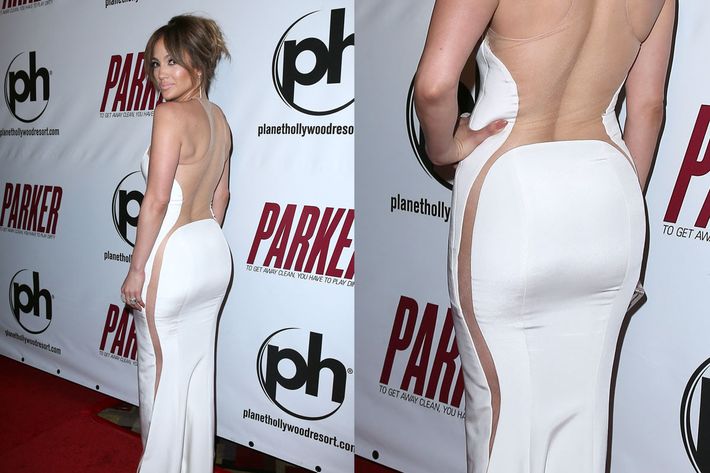 2. J.Lo's Resilient Side-Butt
Jennifer Lopez, an early adopter of slutty dress and butt-flaunting trends, showed her side-butt in late January. She wore a Kaufman Franco gown with a butt panel suspended by illusion netting to the Las Vegas premiere of Parker. The Floating Iceberg Butt Dress raised many questions, including, "What is the etiquette for going commando in a borrowed gown?" (Conclusion: Don't talk about it, just trust the dry cleaner.) The dress reminded us that three husbands and countless box-office flops later, there are two things J.Lo will never lose: her body and her bombastic style, which are all her personal brand needs, anyway. She's sold twenty perfume lines, for crying out loud.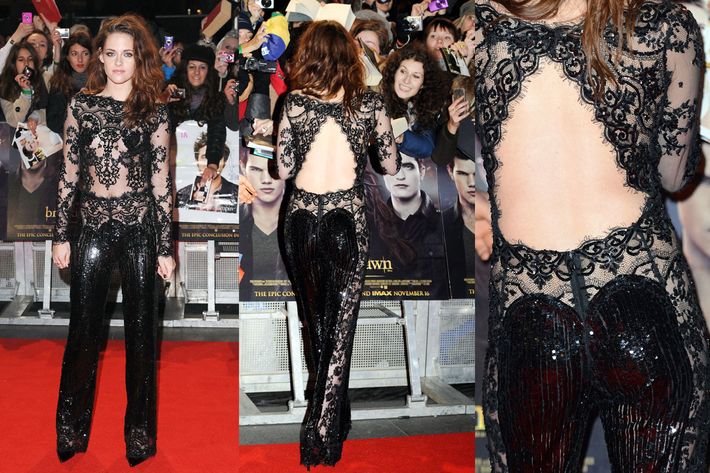 3. Kristen Stewart's Defiant Side-Butt
Like Gwyneth, Kristen Stewart faced a corpus of haters when she wore a Zuhair Murad onesie to the London premiere of Breaking Dawn: Part 2. On the heels of her "trampire" cheating scandal, the heart-shaped panel on K.Stew's derriere said, "I'm here. I'm not leaving. Love me or hate me, I will not be ignored." Just as K.Stew alternately courts and thwarts public attention, her outfit paradoxically called attention to the covered middle of her butt and away from the lace-exposed sides.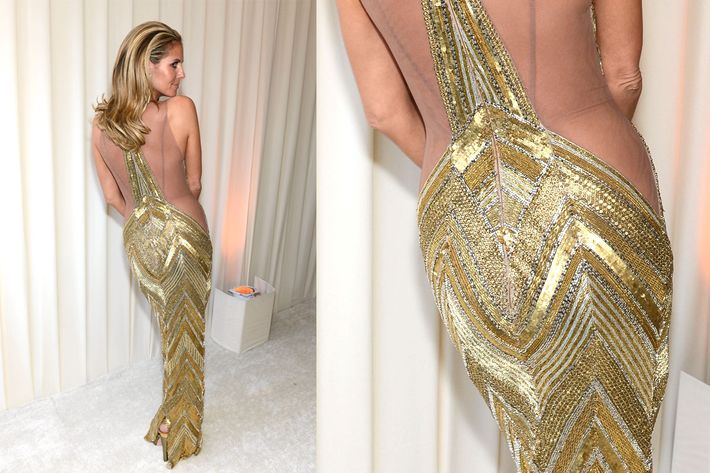 4. Heidi Klum's Hot Divorcée Side-Butt 
A post-divorce Heidi Klum showed side-butt in a "somewhat scandalous" beaded gown at Elton John's Oscars party this year. Like upper-midriff-baring crop tops, side-butt-baring gowns reveal a rarely-bared part of the body that is not too prone to flab — but is very close to a part that is. Thus, bare side-butt creates the illusion of a revealing garment, without actually revealing much. (Unless, like Heidi's gown, it also reveals boobs.)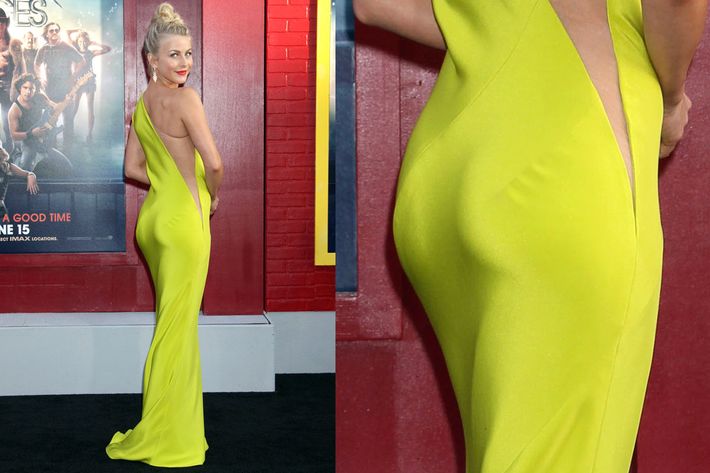 5. Julianne Hough's Modest Side-Butt
Side-butts can be demure, too. Julianne Hough demonstrated the softer side of side-butt at Rock of Ages' Los Angeles premiere, when she wore a stunning neon-yellow gown from designer Kaufman Franco, of the J.Lo Floating Iceberg Butt Dress. Kaufman Franco is the Bach of side-butt, offering deceptively simple variations on a theme.
SIDE-BUTT'S PREDECESSOR: WHOLE BUTT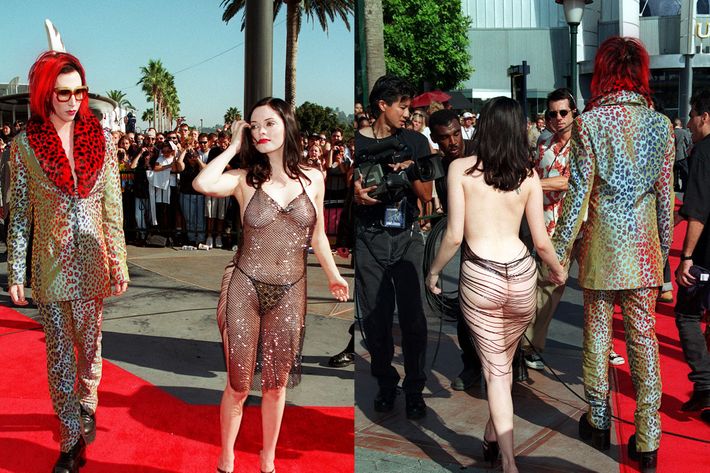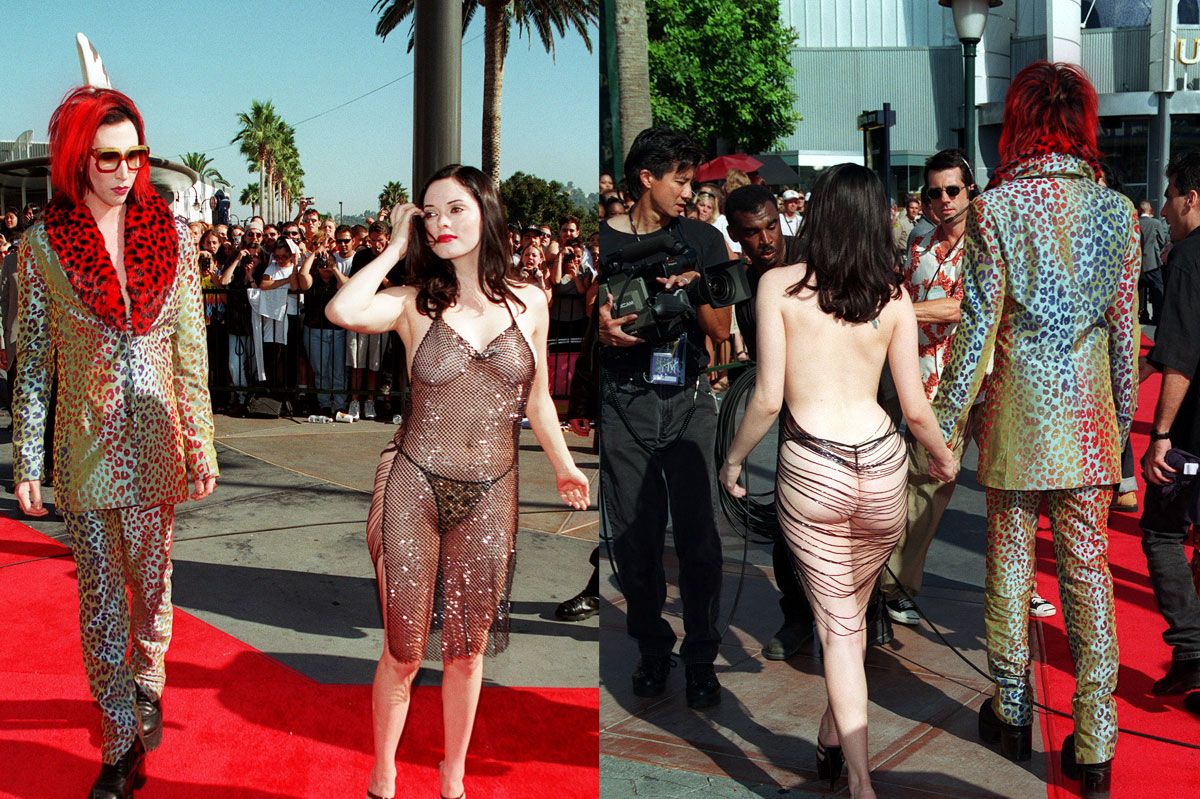 No matter how demure, all modern butt exposure must pay homage to Rose McGowan's 1998 MTV VMA dress, which she wore as Marilyn Manson's date. It was the ultimate kiss-my-ass dress. Unlike the titillating side-butts of today, Rose McGowan's whole butt dared to go bare. (To quote Kanye West, "They can kiss my whole ass / More specifically they can kiss my asshole.")
* Correction: Kaufman Franco is not "he," but "they."