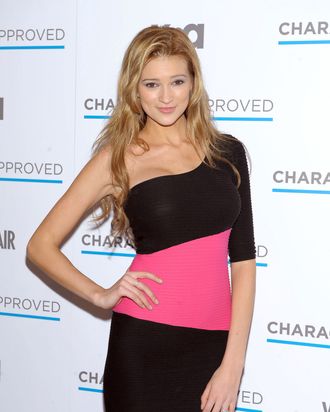 Kylie Bisutti.
Photo: Michael Loccisano/Getty Images
Former model Kylie Bisutti has been busy lately drumming up press for her forthcoming book, I'm No Angel: From Victoria's Secret Model to Role Model, about how she ended her relationship with Victoria's Secret because of her Christian values. Earlier this week, she gave a long interview to the Post about how she "quit modeling for God" and claimed that Victoria's Secret pushed her to do sinful things like "sell sex" and flirt with men even though she was married and spent her free time consulting the Bible instead of going out to clubs. (Oh, and by the way, she's launching a "Christian clothing line" next month.)
Until now, Victoria's Secret has ignored Bisutti, who won their Model Search contest back in 2009 but hasn't worked for them since that year. They probably didn't want to fan the flames, as she's gotten much more attention for her supposed "quitting" than she ever did as an actual model. But apparently her latest accusations hit a nerve, because they finally refuted her claims in a fantastically snippy statement to People:
Ms. Bisutti has made numerous fabrications and misstatements of fact regarding her brief association with Victoria's Secret. In 2009, Ms. Bisutti won an online amateur modeling competition and hasn't worked for us since that year. The prize for the winning contestant was the unique opportunity to a one-time walk in the 2009 Victoria's Secret Fashion Show. Ms. Bisutti also participated in a swim photo shoot in 2009. That was the extent of Ms. Bisutti's involvement with Victoria's Secret. She was never a Victoria's Secret 'Angel' as defined by the terms of our Angel model contract. And contrary to Ms. Bisutti's claims, she was never offered any subsequent modeling contracts or opportunities with Victoria's Secret despite her multiple appeals for further work. She has repeatedly fabricated her work experience with Victoria's Secret — including a relationship that simply did not exist.
SNAP. Oh, and for crying out loud, how many times does Victoria's Secret have to remind the world that just because a woman walked in their show does not make her an "Angel"? That celestial title is reserved for a select group of extra-special models — ten, to be exact — who have contracts with Victoria's Secret. You can't just run around calling models "Angels" willy-nilly just because they posed in panties for the catalog. Gawd.