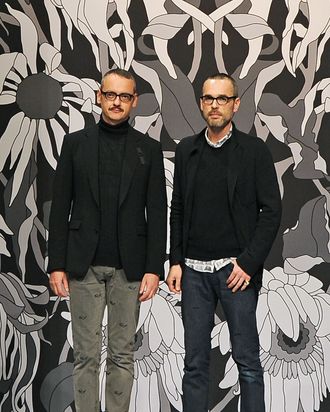 Photo: Pascal Le Segretain/Getty Images
Designer duo Viktor Horsting and Rolf Snoeren were voted "correspondent members" of the haute couture calendar by the Chambre Syndicale, letting them participate in the July fashion week, WWD writes. It's unclear whether they plan to use a runway or hold a presentation; between 1998 and 2000, Viktor & Rolf staged five couture shows. From a January 1999 Times article called "Couture, the Game for Pure Players" by Cathy Horyn:
Viktor and Rolf, as they are called, put on a terrific show on Tuesday in one of those arty dumps with chipped concrete walls and ducts running everywhere. The clothes were all black and white — a black satin pants suit with tiny pinstripes of ruffled white gazar, a tuxedo with a preposterously large Flemish ruff in fraying, white silk. The designers staged their show in black light, so that all you could see were the white details, and the audience's teeth.
Horyn added, "It made you think of fashion," and probably tooth-brushing, "in a different way." Viktor & Rolf's next and perhaps best-known couture show, dubbed Russian Doll, featured Maggie Rizer. The pair piled ten layers of clothes on the model — a stunt performed in reverse on Kristen McMenamy at the label's fall 2010 ready-to-wear show.