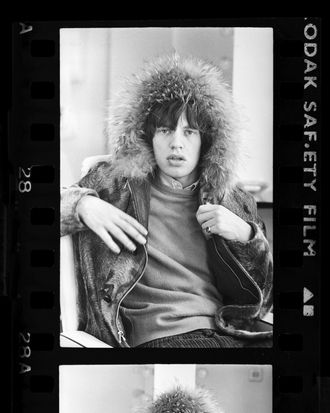 Photo: Terry O'Neill/Getty Images
The latest installment in our series of vintage contact sheets, featuring never-before-published images from photography archives.
Earlier this week, the Rolling Stones announced that they'd be assembling to tour North America — which means that the band's 69-year-old frontman, Mick Jagger, will shortly be crooning to hordes of screaming fans and scooting his way across stages in the States, Canada, and possibly Glastonbury alongside bandmates Keith Richards, Ronnie Wood, and Charlie Watts.
There was once a time when Jagger's name, voice, moves, and long feathered hair weren't yet immortalized in the annals of rock. Zoom in to the photo above and catch a glimpse of the singer when he was just a wee little lad in his early twenties, drinking in his early gulps of fame. Photographer Terry O'Neill took a few snaps of the pillow-lipped Jagger in 1964, approximately a year after he left the London School of Economics behind to dedicate his life to his band and music. If one thing's clear from this shot, Jagger has always had his style on point: The rock legend was never afraid to cradle his head in fur-hooded parka with a bejeweled ring sparkling on his pinkie finger. Little did he know that, in 1985, he'd be tearing up the stage with the "Queen of Rock & Roll," Tina Turner (see video below), or for that matter, that he'd get knighted and stay on tours into his septuagenarian years.