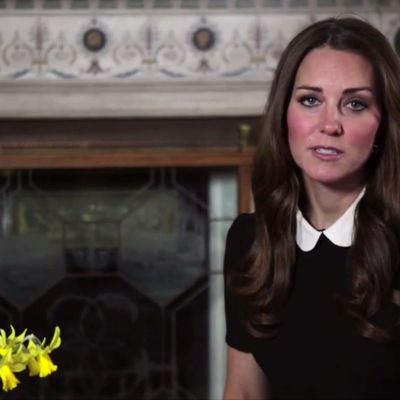 Kate Middleton's broadcast.
Kate Middleton has spoken, by herself, on TV for the very first time! She's given short remarks during public appearances on behalf of several charities before, but this is her very first televised message. The only other time she's talked on TV was after her and Will's engagement back in 2010, when they sat down for an interview with the BBC's Tom Bradby. Back then, she was noticeably shy on camera, sometimes trailing off or looking to Will for help. Three years later, she's still a little shaky, but has clearly gotten coaching. 
In the video, released on Saturday, Kate encourages viewers to support Children's Hospice Week. She's a patron of East Anglia Children's Hospice, so her message fits in with her charity work. Some observations:
- Her speech is quite robotic, with long, measured pauses. You can picture her speaking coach standing behind the camera and giving her the "SLOW DOWN" motion.
- She looks solemn and pilgrim-esque in her black dress and white Peter Pan collar. This is the same Topshop dress she wore to visit Child Bereavement U.K. last month, but it doesn't appear that this video was filmed on the same day, as her hair looks different (it's curlier here).
- Those are some very sad daffodils on the table next to her. They couldn't fill up the vase? Get some more robust blossoms? Those poor little flowers look like they're staring at the floor.
- Her skin looks pale, but her cheeks are very rosy, like someone went overboard with the blush. Or maybe she was just flushed and nervous? Overheated? The room looks frigid, but maybe it's just that empty fireplace behind her.
- She has the same rather pained but very earnest expression on her face throughout her speech. Perhaps it's fitting, considering her message, but the poor woman looks like someone's stepping on her toe.
Excerpts from her speech, should you be interested:
I have been fortunate to see first hand the remarkable work that they do for children and young people with life-limiting conditions, and their families. It is simply transformational … Children's Hospice Week is a time to recognize, celebrate and support the inspirational work of these hospices, and those who provide palliative care to these children and families. Children's hospices provide lifelines to families at a time of unimaginable pain. The support they give is vital …

In order to carry out this wonderful work, our help is needed. With our support, those providing children's palliative care can continue to offer these extraordinary service … It does not bear thinking about what these families would do without this. With your support, we can help ensure that these children and their families can make the most of the precious time they have together.
Maybe someday we'll get a glimpse of what Prince William described as her "naughty sense of humor," but clearly not just yet. (And bravo for her charitable efforts, of course.)