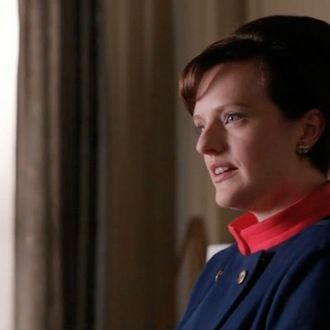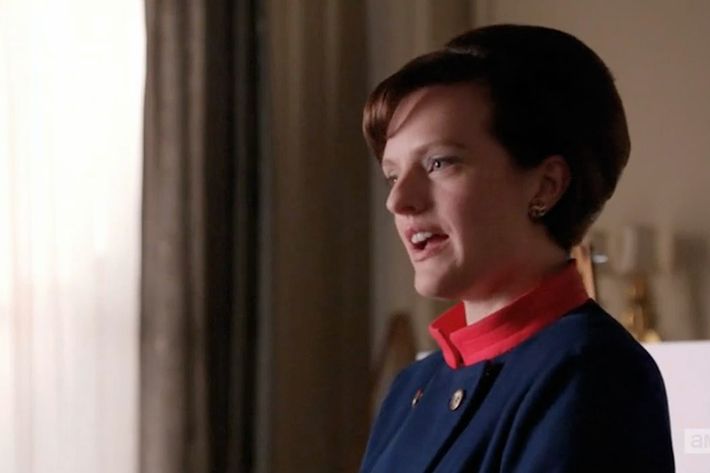 Last night, in a great coup, Peggy presents to the Heinz Ketchup account by using Don's famous line from the episode titled "Love Among the Ruins" (Season 3, Episode 2): "If you don't like what is being said, then change the conversation." She delivers the line in a poised presentation to the Heinz team in a hotel room, just after Don has done a mediocre job of convincing the client of his own idea.
The betrayal cuts extra deep because Don thinks he is the only one even gunning for this account. He doesn't know that Peggy talks all the time to her former co-creative Stan, who inadvertently tipped her off about the potential business. The mentor and his mentee meet outside in a tense moment right after SCDP has presented. Don then lingers, listening outside of the door while his former protégé masterfully explains her idea by appropriating  his own words. Coming late in an episode in which Don was a complete dick throughout, it felt like vigilante justice.
After the presentation, Peggy and her new boss Teddy Chaough go to lunch at the diner where Don, Stan, and Pete have gathered to regroup. Peggy stands up to Don's death stares and the middle finger of her friend Stan with steely grace. If she's uncomfortable, she's hiding it well. In last week's episode, when Peggy casually mentioned that she had heard Heinz was looking, Chaough pushed her to find out all she could. When she doubted if she could betray her former company, he reminded her that their biggest mistake was underestimating her. Amen.
*This post has been updated to reflect that Peggy did not win the account.