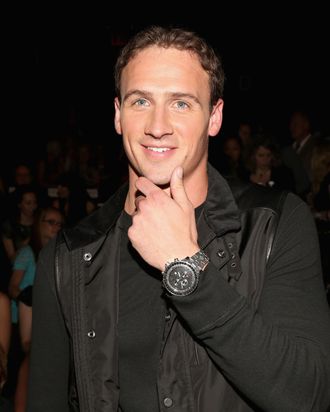 Photo: Astrid Stawiarz/Getty Images
You may recall that Ryan Lochte's reality show, What Would Ryan Lochte Do, airs on E! this Sunday. In preparation for the big premiere, its fearless star is doing a handful of public appearances and interviews, including one this morning with co-anchors Sheinelle Jones and Mike Jerrick on "Good Day Philadelphia." Lochte's long, baffled silences are so painfully awkward that even his nonsensical answers come as a welcome respite: 
Jones: Is it bothering you, having the camera follow you around everywhere?
Lochte: You know, I'm getting used to it. The first couple days it was a little weird. I mean, I was brushing my teeth and the camera was there.
Jones: I thought the bathroom was off-limits!
Lochte: Well I guess there's like, uh, there's like, uh, there's like a mirror, with a sink, and then you've got the bathroom, so you've got to separate … [trails off]
Finally the anchors took pity on poor Lochte, who did look adorable in his blue plaid shirt and loosened tie, and wrapped up the interview. Then they laughed so hard they cried. (Jones lost one of her fake eyelashes, so you know those tears were genuine.) Oh, Ryan. At this point, our only hope is that the show is disastrous in a good way.