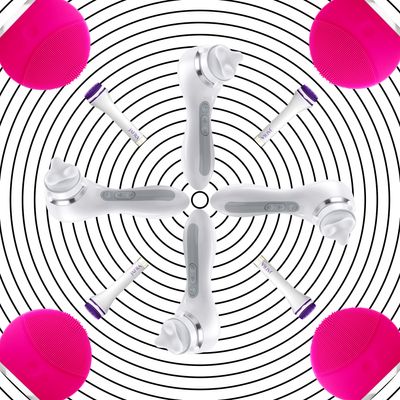 Washing your face before bed is crucial, but cleansing technique is even more important. While washing your face with your hands is absolutely acceptable, a cleansing device can take some of the manual labor out of it. Cleansing brushes can also take your complexion one step further, by helping to tighten pores, firm skin, and boost radiance. Another benefit: When the day's grime and makeup are completely wiped away, skin-care serums and creams are absorbed more effectively into the skin.
Over the past few months, I tested a variety of gadgets from affordable no-frills options to more complex (and pricey) allegedly anti-aging systems. Rotating nylon bristles tend to be the standard entry-level choice, but pulsating silicone devices are also having a moment. Here's a roundup of my results after experimenting with each one.
The Luxurious But Best One
If you buy something through our links, New York may earn an affiliate commission.