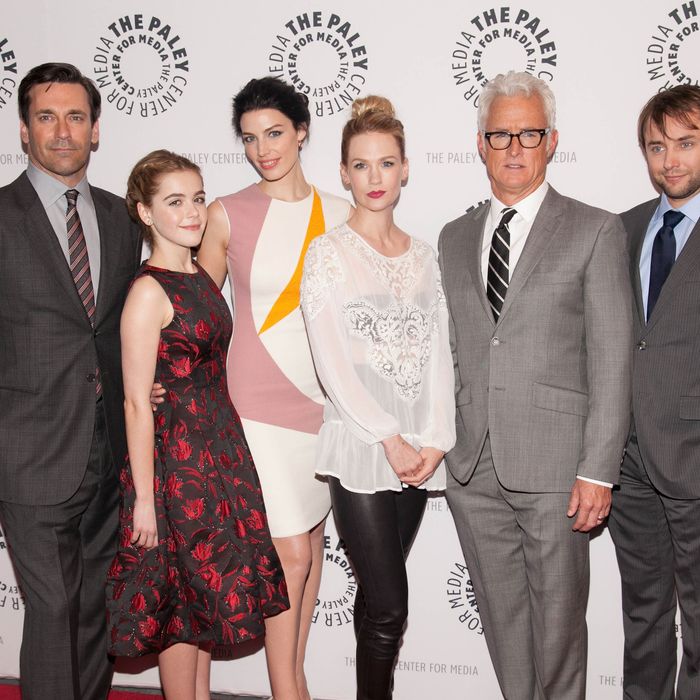 The Mad Men cast.
Photo: Dustin Wayne Harris/?Patrick McMullan
The Paley Center for Media hosted a Mad Men panel discussion last night, and the bulk of the show's cast showed up to participate. (Sadly, Elisabeth Moss and Christina Hendricks weren't in attendance.) This is a particularly fun season to see these actors on red carpets, though: Betty Draper looks increasingly different from the real-life January Jones, and Kiernan Shipka is morphing into the stunning teenager we always knew she'd be. And of course, no one ever tires of John Slattery's hipster spectaces, or Jon Hamm in general. Click through our slideshow to see who best resembled their Mad Men character last night (rated on a scale of one to ten), and whether or not that's a good thing.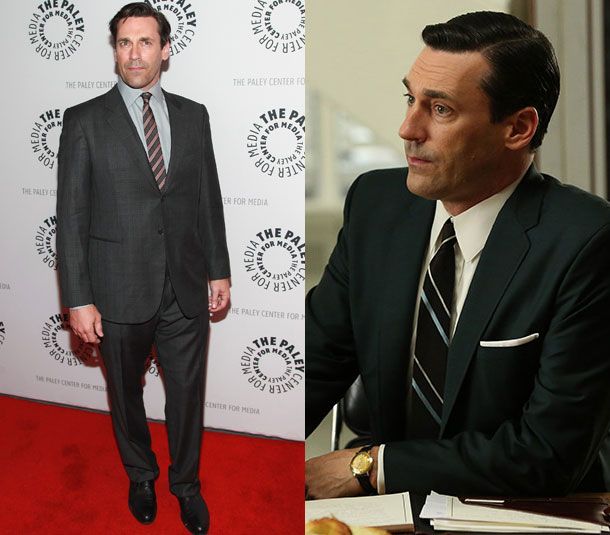 Jon Hamm vs. Don Draper
Likeness rating: 8. The differences: Don uses more hair pomade, and wears pocket squares. Jon's hair is floppier. The similarities: Both the character and the man wear simple, well-cut suits without any fuss or pizzazz. It works well.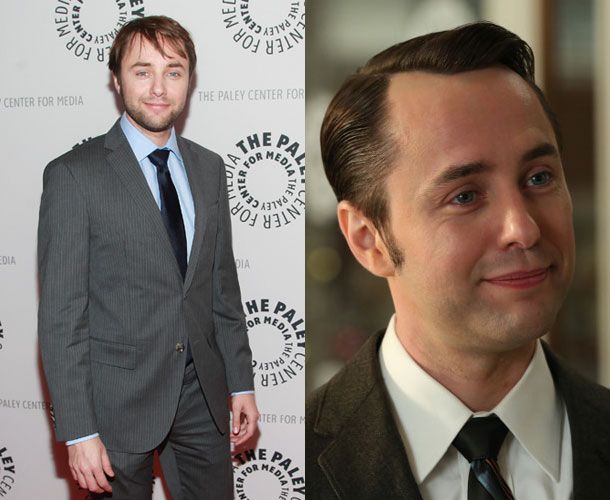 Vincent Kartheiser vs. Peter Campbell
Likeness rating: 6. The differences: Again, hair pomade. Vincent gives his bangs full rein. Meanwhile, Pete now has sideburns, whereas Vincent has a full beard. The similarities: Both have a penchant for polished suits, although Pete sometimes errs towards regrettable trends, like madras.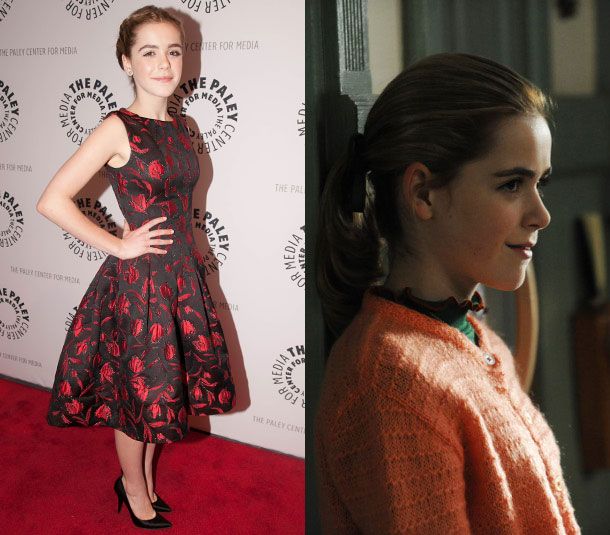 Kiernan Shipka vs. Sally Draper
Likeness rating: 3. The differences: Sally gets dressed by her fictional mom, Betty, which means she wears knit sweaters and Peter Pan collars. She's definitely much more girlish-looking than Kiernan, who probably gets help from a stylist and wears very ladylike, Jackie Kennedy–esque shapes (and resembles young Betty Draper more and more every day). The similarities: Both Sally and Kiernan always have very nicely coiffed, shiny hair.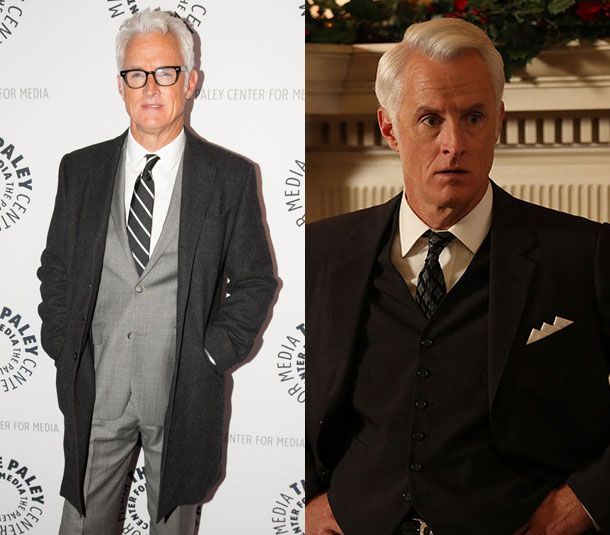 John Slattery vs. Roger Sterling
Likeness rating: 6. The differences: John's delightful thick-rimmed spectacles, and Roger's penchant for three-piece suits. John is a bit of a silver-haired hipster. The similarities: Both usually wear white shirts with their suits, and don't get crazy with their ties.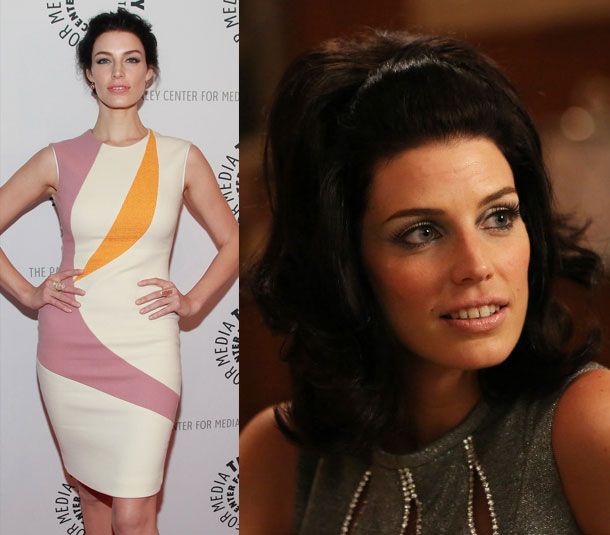 Jessica Paré vs. Megan Draper
Likeness rating: 5. The differences: Both Megan and Jessica are into fashion, but that means very different things now than it did in 1968. When Megan gets dressed up, she goes for intense cat-eye makeup and teased hair, whereas Jessica stays subtle. Also, Megan LOVES sparkles. The similarities: Their interest in capital-F Fashion. Both are on top of trends and can pull off sartorial risks.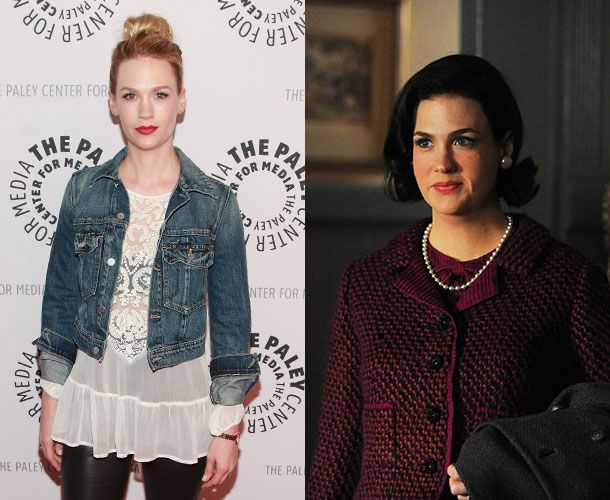 January Jones vs. Betty Francis
Likeness rating: 1. The differences: Betty used to physically resemble January Jones quite a bit, but now that she's gone brunette and wears a fat suit, they look nothing alike at all. Clothing-wise, they've always been opposites: January always wears something edgy and unexpected (exhibit A: her sheer top, black bra, and black leather pants), while Betty sticks to prim, Stepford Wife–y tweeds and pearls. The similarities: Black mascara and berry-colored lipstick.