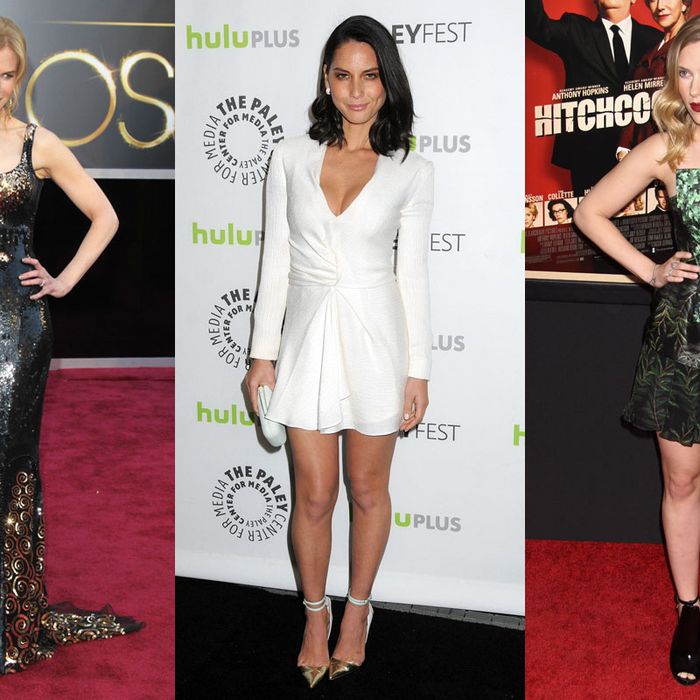 Nicole Kidman, Olivia Munn, Scarlett Johansson.
Photo: Getty Images
Ever an excuse for Washington people to feel glamorous and for celebrities to feel political, the White House Correspondents' Dinner is shaping up to be a grand affair, with different news outlets jockeying for the most famous guests. There's no word yet on whether Anna Wintour will attend, as she has in years past, but Condé Nast has secured several tables. Below, a list of  confirmed bold-name guests and their affiliations:
Joanna Coles
Tina Brown
Nicole Kidman (guest of Brown's)
Olivia Munn (also a guest of Brown's)
Harvey Weinstein (unclear if Georgina Chapman will accompany him)
Barry Diller (also unclear if he'll bring Diane Von Furstenberg)
Arianna Huffington
Jon Bon Jovi (guest of Huffington's)
Governor Chris Christie (also guest of Huffington's)
Shaquille O'Neal (Huffington's, too)
Scarlett Johansson
Sofia Vergara (at ABC's table)
Connie Britton (at ABC's table)
Hayden Panettiere (at ABC's table)
The dinner will be held on April 27, so celebrities have a few weeks to brush up on sequestration so that they can impress their table mates with witty political jokes, or at least know when to laugh at other people's. Meanwhile, host Conan O'Brien will make everyone chortle about how famous and powerful they are, and Michelle Obama will get to wear something fun and rub shoulders with movie stars without fear of reprisal.