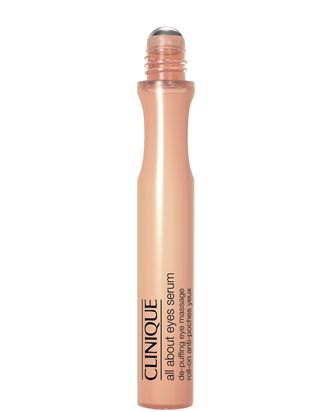 Photo: Courtesy of Clinique
Hands-down best way to get a beauty product on your face or body is through the massaging wonder of a roller ball. There might be two great eye cream options in front of you: One is encased in a mini-pot, while the other goes on with roller ball. You'll always go with the second. It's hygenic (no finger dipping) and it just feels better on the skin. Yes to Blueberries Brightening Eye Roller or Clinique's All About Eyes De-puffing Massage come equipped with a cool-to-the-touch metal ball that brings an instant soothing sensation. Most travel-size fragrances, like Terveer, use a smooth plastic ball to deliver essential oils or perfumes to your wrists and other spots you'd like to smell nice. Then there are those eye shadows (Kevyn Aucoin Shimmer Shadow) that deliver a light dusting of pigment via roller ball, and lip goodies, too, most all of which remind us of the Bonne Bell Lip Smacker days.
But what about face creams? Why aren't there any moisturizers that come packaged in a squeezable tube with a mid- to giant-size ball at the end? Unlike some cellulite gel creams that tend to have three metal rollers, the perfect face cream would come packaged in a tube with one, singular roller. It will not only glide over skin, smoothly delivering an even amount of moisture, but will also incorporate gentle facial massage and light lymphatic drainage into your daily routine. Germy hands and fingers will stay away from your face.
The one downside is that you might enjoy the massaging sensation so much, you'll use up the product too soon and deal with an overcoating of cream. Still, this is a brilliant and untapped beauty idea. If you are interested in making my beauty dreams come true, you know where to find me.