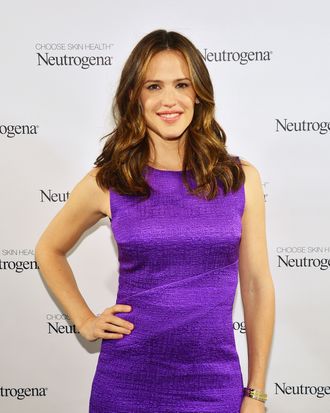 Jennifer Garner.
Photo: Larry Busacca/Getty Images
According to WWD, Jennifer Garner might be the new face of Max Mara, although no one will confirm. If it's true, it would mark a new direction for Max Mara, which usually sticks to bold-name models like Hilary Rhoda, Toni Garrn, Kati Nescher, and so forth for their ads. It would also be a first for Garner, who hasn't shown much interest in the fashion industry aside from looking pretty on red carpets.
But think about it: Garner is a great candidate for a fashion contract. She's a respectable actress, with both mainstream appeal (Alias) and indie credibility (Juno), and she looked nice squiring around husband Ben Affleck as he rallied for (and then won) an Oscar. She's also a mother of three young kids, which adds relatability, and a face of Neutrogena, which has wholesome associations. She'd surely do well in markets that have been tapped by celebrities like Katie Holmes or Kate Hudson. Someone like Ann Taylor should look into Garner for real, whether or not this Max Mara business works out.