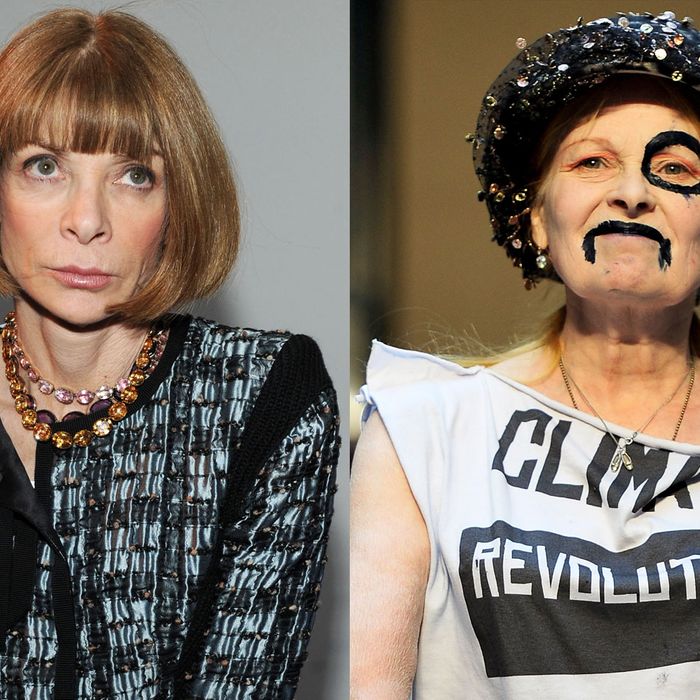 Photo: Craig Barritt; Gareth Cattermole/Getty Images
With two weeks to go until this year's "Punk: Chaos to Couture"–themed Costume Institute Benefit at the Met, co-chair and Vogue editor-in-chief Anna Wintour must be teaching her minions the art of properly folding napkins into the shape of a Dead Kennedys logo. Of course, no detail has been overlooked, including a 40-foot Styrofoam sculpture of Vivienne Westwood in the buff sprawled out on a mattress created by Nick Knight; that, according to the Mail on Sunday, was uninvited by Wintour herself.
Apparently, attendees would have been able to project different graffiti onto Dame Viv's likeness, but, as the Mail reports, Wintour "took offence at the sculpture, describing it as a needless distraction," and canceled its installation. (The New Yorker published the same anecdote in its Style Issue, but claimed it was a joint decision with the Met.)
It's true Wintour and Westwood aren't the best of friends — after a scan of the designer's Voguepedia page, the last compliment the editor might have made about Viv's work was to the New York Times in 1987: "Vivienne Westwood is an unbelievable influence … We all laughed the first time we saw crinolines. But it's good that someone refuses to be all pale and beige and cashmere." That was even from pre-gold-lamé Wintour! Thank goodness one of them still knows how to rage.
* This post has been updated from its original version.