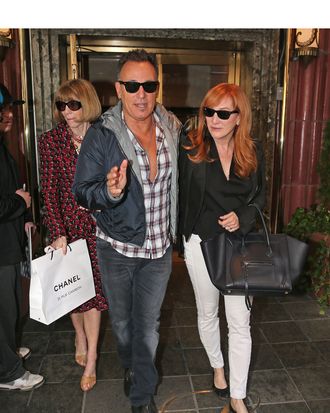 Yesterday, Bruce Springsteen and his wife Patti Scialfa departed from their New York City hotel, and a Boss enthusiast couldn't wait to have his picture taken with the couple. The fan had to overcome one obstacle: Vogue editor Anna Wintour and an always-forward-facing Chanel bag. This is their story, as told using a variety of lyrics from Springsteen's oeuvre.
Anna: We said we'd walk together baby come what may/
That come the twilight should we lose our way/
If as we're walking a hand should slip free/
I'll wait for you/
And should I fall behind/
Wait for me.
Bruce: With her soft French cream/
Standing in that doorway like a dream/
I wish she'd just leave me alone.