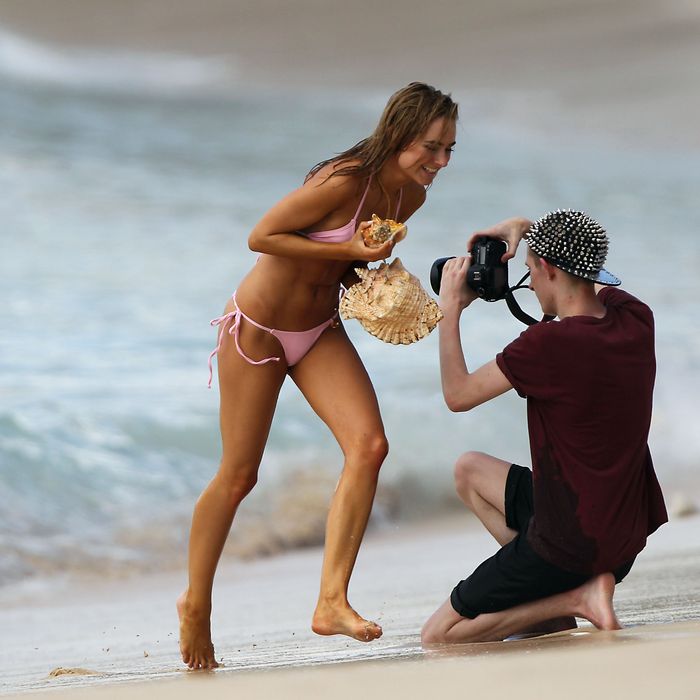 This is a normal photo shoot, not a fake-paparazzi one.
Photo: Splash News
Private photography has become polarized. The rise of the selfie has encouraged meticulous control of one's own image, while its inverse — an obsession with candids — has created a generation of wedding albums full of blurry women throwing their heads back while laughing. Today ABC News reports a trend that is simultaneously controlled and candid: the practice of hiring personal paparazzi to document family vacations.
Until recently, vacations that cost thousands of dollars were being captured on cameras that cost only a few dollars. But some people are changing that.

Enter Allie Hawkins, a photographer who says vacation photos shouldn't be an afterthought. She makes a living at the helm of Island Photography, a company that captures memories for travelers vacationing on North Carolina's Outer Banks. "There's always that family member who is the one taking the pictures and is never in any of the photos. That's usually the person who winds up hiring us to capture memories that include everyone," Hawkins told "Good Morning America" in an interview that aired today.

Hawkins' clients are part of a growing trend: people paying to have their vacations professionally photographed. Her clients say the results — clean, crisp, blur-free images ideal for holiday cards and brag books — are worth it.
Prices with other firms go as low as $175 for a "photo tour" of New York City, which is basically a regular tour, but with a designated photographer. It was inevitable; in the age of digital reproduction, documenting an event has become integral to experiencing it. Even when we don't need a photo — say, when we are one of hundreds attending a wedding, all of them taking photos of the same cake-in-face moment, all uploading the same cake-in-face picture to the same social network, simultaneously — we still feel compelled to take one. Now we can outsource the taking of unnecessary photos, too.
In the future, all of life will occur on a green screen. Humanity will be added in post-production, with CGI.