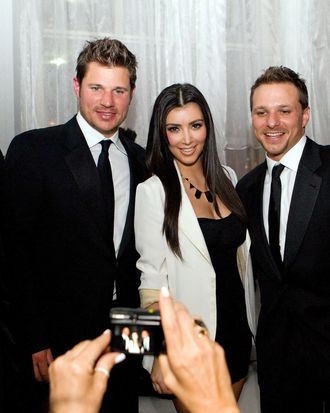 Photo: Joey Foley/WireImage
Kim Kardashian traces her fame back to a 2006 date with Nick Lachey that showed up in the tabloids the next day — a photo op Lachey now hints was staged. In an interview promoting his 98 Degrees reunion tour, Details asked if he was responsible for Kardashian's "ubiquity." He replied:
"That's one way to interpret it. Let's just say this: We went to a movie. No one followed us there. Somehow, mysteriously, when we left, there were 30 photographers waiting outside. [Laughs] There are certain ways to play this game, and some people play it well."
It's years-old gossip, sure, but what else are boy band reunion tours good for?