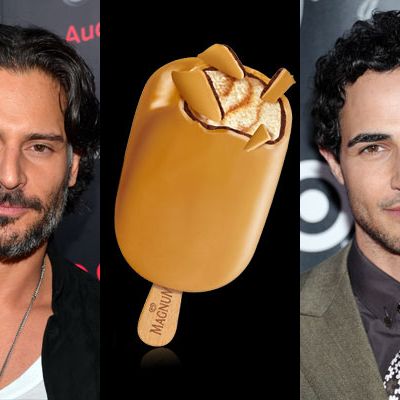 Joe Manganiello, Magnum, and Zac Posen.
Photo: Getty Images, Magnum, Getty Images
Remember when Magnum hired Karl Lagerfeld to make ice cream on a stick seem more stylish, and so he designed an entire chocolate room, complete with a shirtless chocolate Baptiste Giabiconi reclining on a chocolate bed? Sadly, that collaboration came to an end, but Magnum has not forsaken their fashion-themed marketing. This time around they tapped Zac Posen to shill their latest product, a gold-colored chocolate ice cream bar called Gold?!, extra punctuation included. According to Magnum's press release:
American fashion designer Zac Posen created a one-of-a-kind, 24-karat gold dress inspired by Magnum Gold?! - valued at $1.5 million - to debut in a short film starring actor Joe Manganiello, during the Tribeca Film Festival on Thursday, April 18.
Yes, Joe Manganiello! Will he tear the golden dress from the body of some lucky female co-star in a fit of passion? Gaze upon it while licking golden ice cream in the nude? The release continues:
The irresistible decadence of MAGNUM Gold?! Ice Cream will be brought to life in the short film "As Good As Gold," by Emmy-award winning director Jon Cassar. The film will star Manganiello along with actress Caroline Correa as his newest leading lady.

Manganiello plays a gold thief who falls for the beautiful but dangerous Correa as she wears Posen's 24K gold dress. In the film, he finds out the hard way that all bets are off when it comes to women who pursue pleasures that are as good as gold.
This sounds just as random as the Magnum commercials Lagerfeld made with Rachel Bilson, but there's simply no argument that a chocolate Baptiste >>> gold gown. Anyway, if you're curious about the physics of said garment, it was apparently made from 10,000 24-karat gold sequins and inspired by melting ice cream, Posen says. You'll get to see it for yourself when the film comes out on Magnum's Facebook page, like you needed an extra excuse to sit at home eating ice cream and watching videos of Manganiello by yourself.