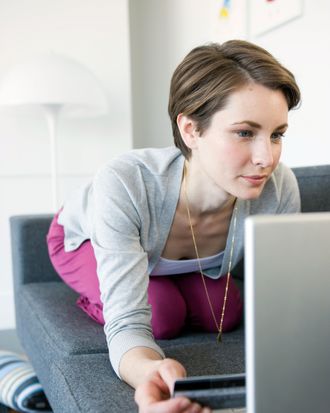 Look familiar?
Photo: Emely/Corbis
A new survey shows that over one in ten Americans — 11 percent, to be exact — consider themselves to be shopaholics. This is no surprise, particularly considering the survey was done by CouponCabin.com, a website that lures people into buying things they probably don't need by offering temporary discounts:
A new CouponCabin.com survey reveals that 15 percent of U.S. adults report their shopping habits have put them in debt, with 20 percent of saying the most amount of shopping debt they've been in exceeds $5,000 [sic]. Two-in-five (41 percent) said at their peak, they've been in more than $1,000 of shopping debt. This survey was conducted online within the United States by Harris Interactive on behalf of CouponCabin.com from May 14th – 16th, 2013, among 2,052 U.S. adults ages 18 and older.
What's more, online shopping is much more addictive than hauling one's ass to a store and going through the rigmarole of actually paying for something in person.
All the shopping options on the Internet may be feeding shopping obsession, as 63 percent of U.S. adults think online shopping makes it easier to be a shopaholic.
Sure, this survey's sample group probably skewed towards more Internet-savvy shoppers, but it's true that the web often makes it way too easy to shop. In fact, I just bought a new pair of white jeans while writing this. A quick roundup from Cut staffers reveals similarly shameful behavior. A list of our most recent online impulse purchases:
Sally: I last bought a Phillip Lim dress, because Diana told me to. I defense shop often, like if there's only one size left — I'll just panic and buy.
Diana: I bought Asos flats from Rebecca's wedding slideshow. So it's her fault, really.
Maureen: I drunkenly placed a Seamless web order and then fell asleep and missed it. The delivery man left it by my door and I found it in the morning.
Emily: From Amazon — A pastry brush, a pitcher, and a fire extinguisher.
Kurt: I bought six Michael Bastian x Uniqlo polos. Because … why buy one? I was also unsure which one I wanted, but the other problem is that I never return things.
Stella: A nut milk bag, on Amazon the other night.
The truth is, most of the shopping decisions we make are impulsive, and many of us constantly crave that jolt of satisfaction that comes with placing an order. In fact, maybe the real reason why Buzz Bissinger's recent GQ confessional was so harrowing is that we could all see a little bit of ourselves in his story. Or … maybe we're even jealous.