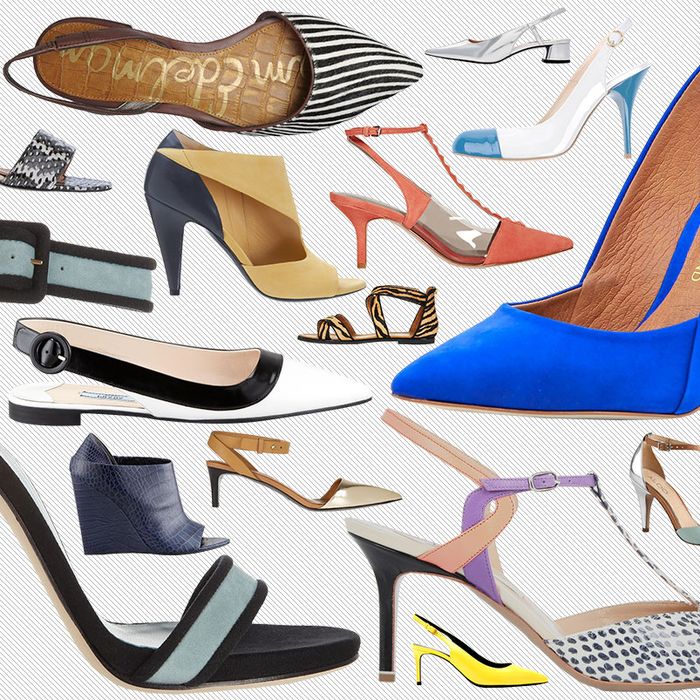 The devoted dancer, runner, or high-heel-wearer may hate her toes. For others, it's the heels, which can be prone to cracking and dry patches. Or maybe you just find feet ugly overall, and refuse to bare them in their entirety. Regardless of your phobia, spending all of summer with them covered can be a stifling, sweaty, and generally not-so-fun experience. One possible solution is to wear slingbacks that will cover the front and leave the backs exposed. Or perhaps a full-coverage heel cup can draw the eyes toward your polished toes. Be it a flat, wedge, or stiletto, click ahead to see ten different types of shoes that will cover all summer needs, even if it's just hiding the fact that you forgot to get a pedicure.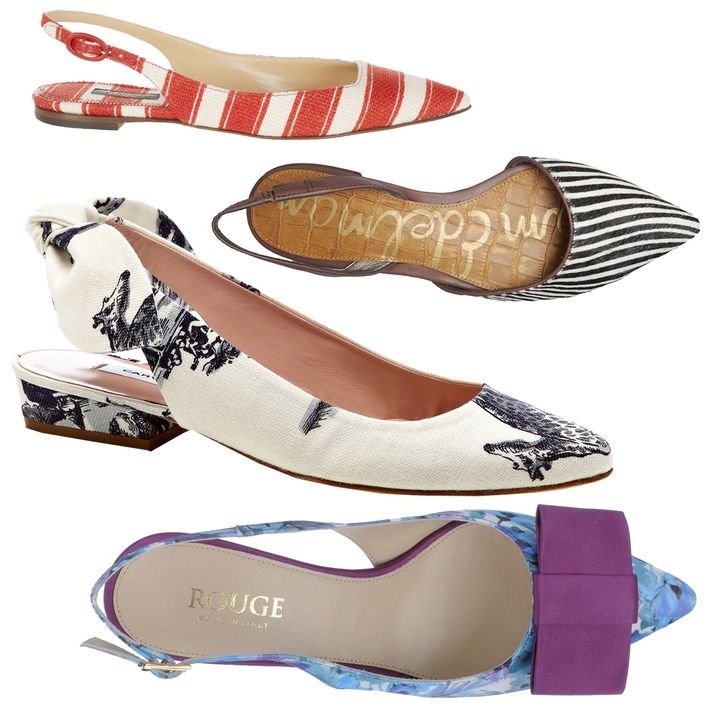 To Cover Up in Daytime
What would summertime be without a bevvy of fun prints? If you're covering up the toes, try a toile, stripe or floral, all of which can pair equally well with a floaty white summer dress as any sandal.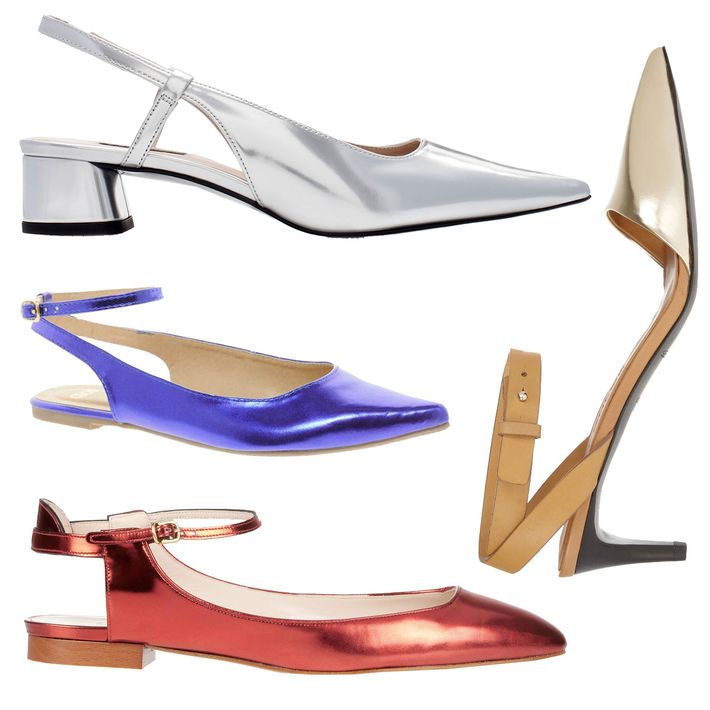 To Hide Unmanicured Toes on a Date
Colorful metallics are a big spring trend with their eye-catching high shine and will look equally as fancy on a night out as your standard strappy evening shoe.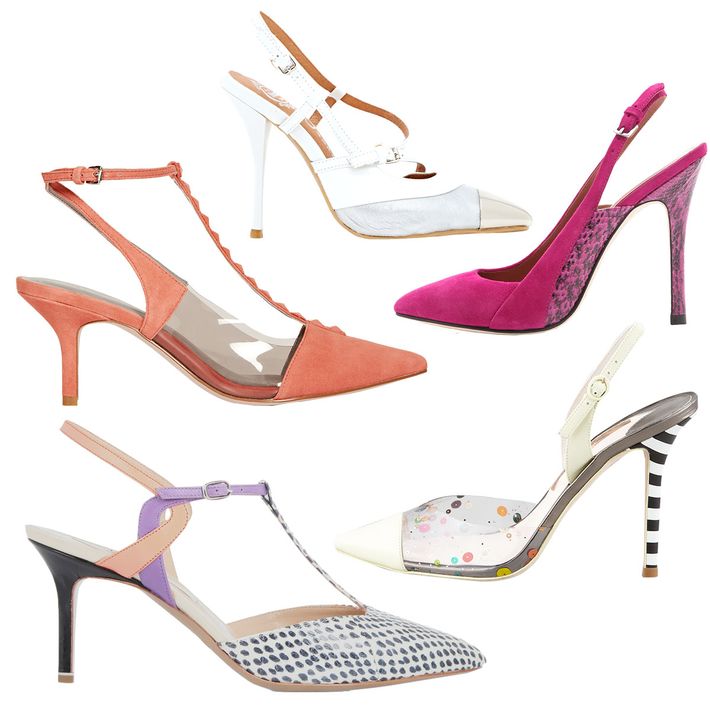 To Disguise Unsightly Feet Using Distraction Techniques
It may seem counterintuituve, but the easiest way to divert people from looking at your toes is by drawing their eyes toward them. By mixing and matching prints, colors and textures, they'll focus on the sparkles or the fuchsia snakeskin instead of your actual foot.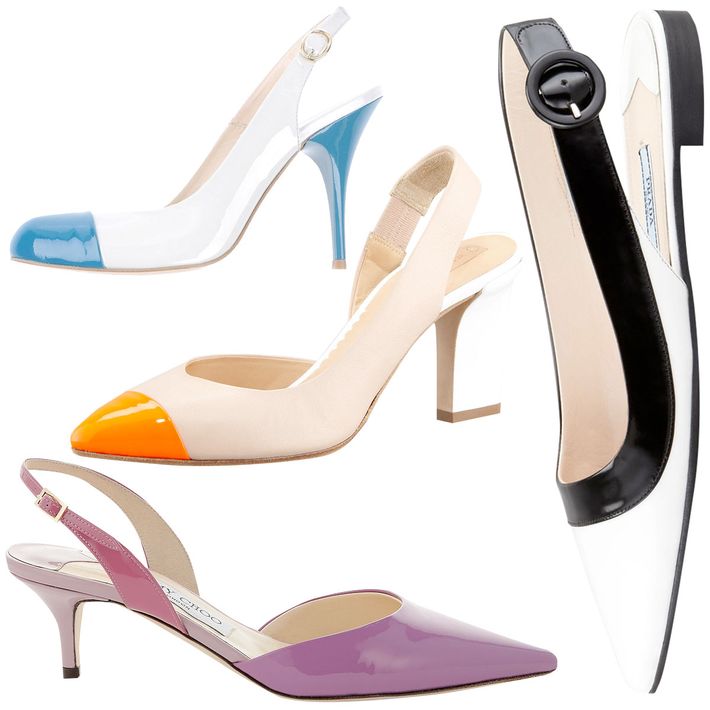 To Camouflage Bunions at the Office
If the mishmash of textures and patterns proves to be too much, graphic color blocking also serves as a welcome distraction technique. The boldly=hued sections will highlight details of the shoe like the toe or heel, while still remaining office-friendly.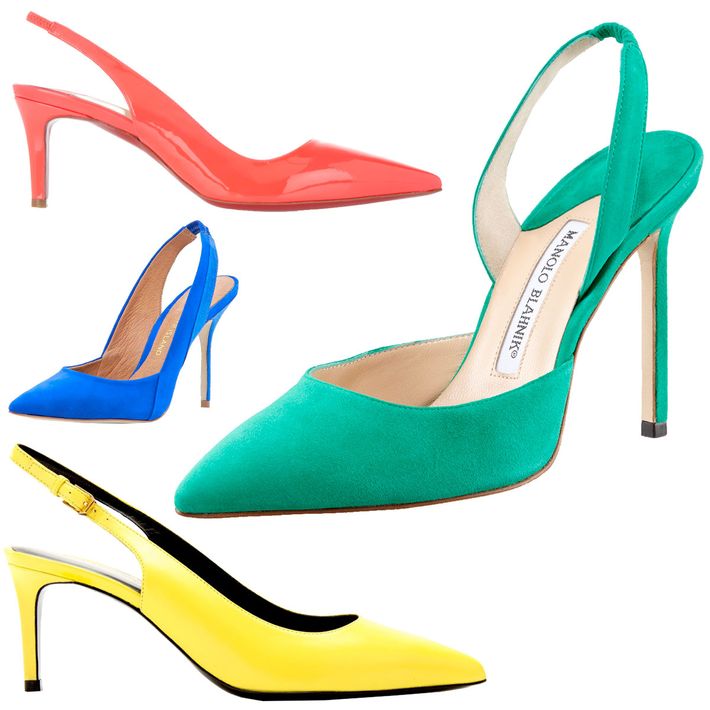 To Add Playful Color Without Nail Polish
Wearing crazy colors like green, yellow, or cobalt on your toes works better than painting all ten finger (which can verge on childish). But if you can't (or won't) show off a pedicure, wearing the same colored shoe is almost the same.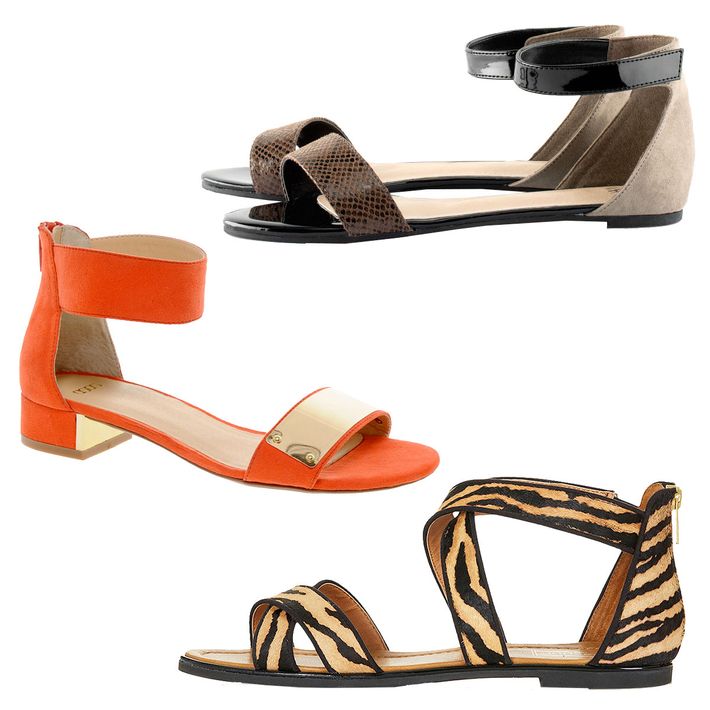 To Protect Cracked Heels from Walking Around All Day
With their low heels, flat sandals are the workhorses of summer that are meant to be worn for hours on end. A covered heel feels more sturdy and will protect your feet from accumulating dirt. Choose a bright color or fun pattern to accent your outfit.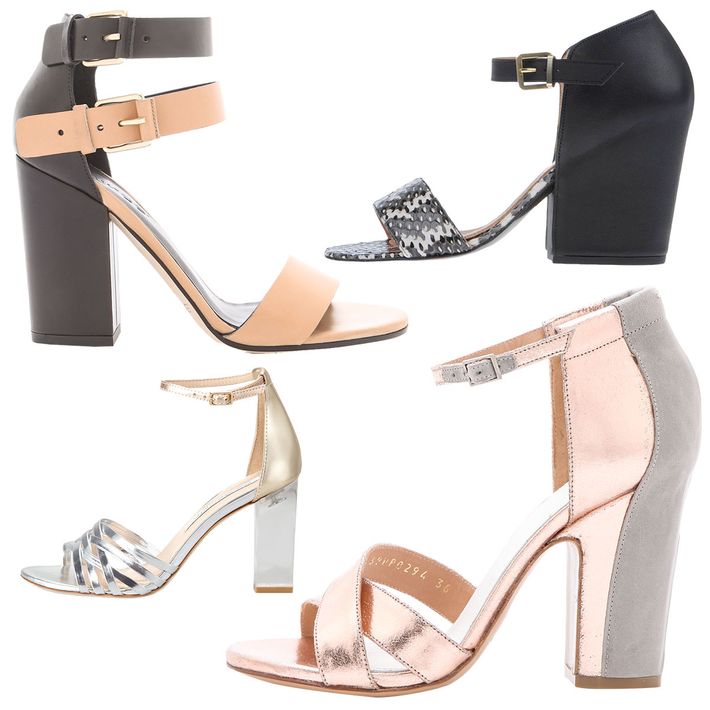 To Hide Blisters When You Have to Wear Heels
Blisters are inevitable in the summer as your feet sweat and swell from the heat. You still have to look polished, and a higher, stacked heel works well for on-the-go days that require a more formal outfit. Try it with a pair of silky wide leg trousers for maximum foot-hiding potential or wear with a slim pencil skirt for a chic solution.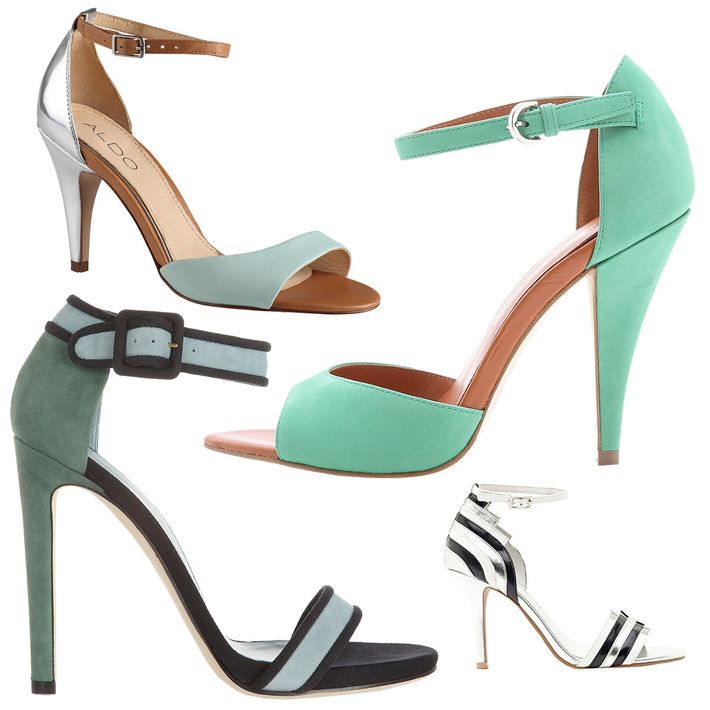 To Camouflage Your Heels While Partying 
You may not be doing the salsa, but take a cue from ballroom dancers and choose similar shoes. With an ankle strap and molded heel cup to hold your feet in tightly, they're great for dancing the night away. Especially since they come with a leg-lenghtening heel.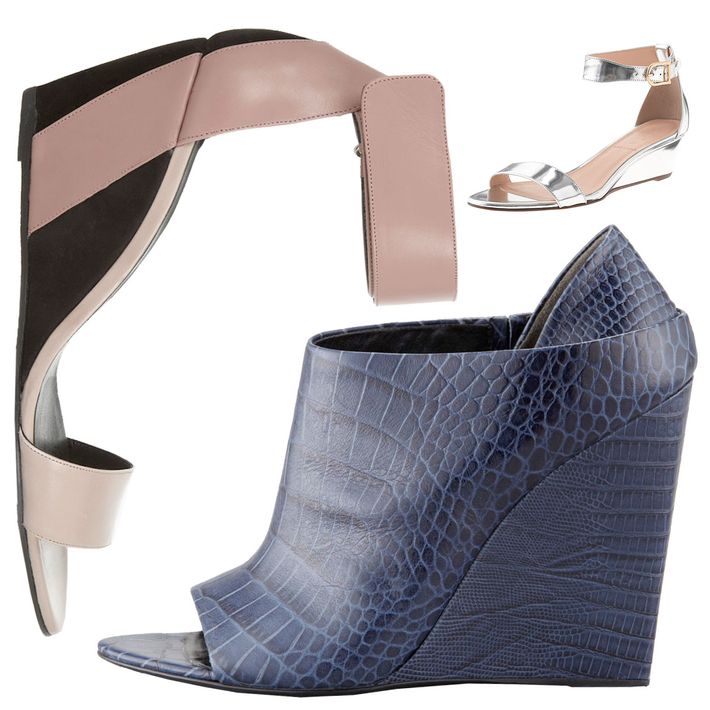 To Tromp Through Fields/Grass/Etc.
There's nothing more refreshing that feeling fresh grass against your toes, so opt for the sturdy wedge during outdoor occasions like informal picnics at the park or country club weddings. If you're feeling extra self-conscious, Alexander Wang's Alla wedge will cover nearly your entire foot, save for a bit of toe peeking out.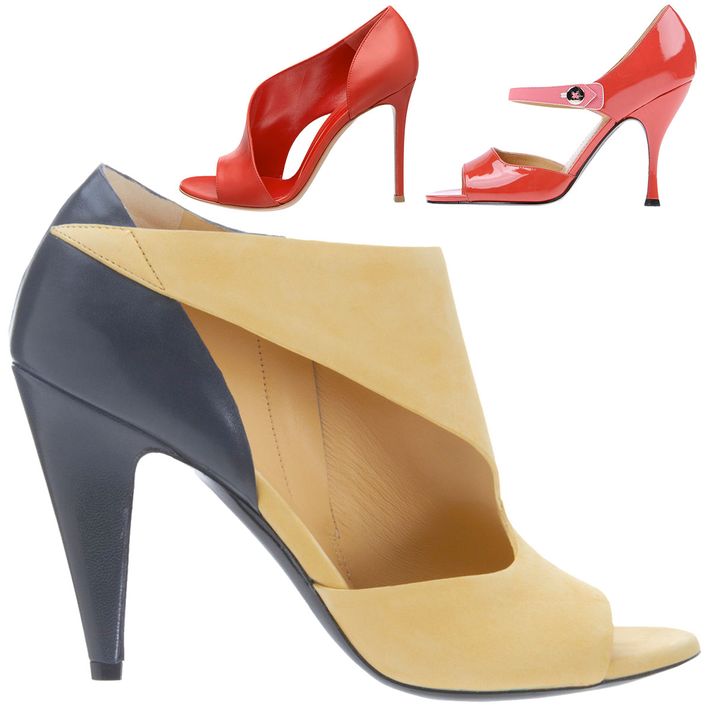 To Highlight the Sexiest Part of the Foot
Instead of focusing on the parts you don't like, highlight the one area that is always sexy – the instep. Curvy and sleek, it's hard to find fault with this body part. Just choose a shoe with cutouts and swoops that mimic its graceful lines.