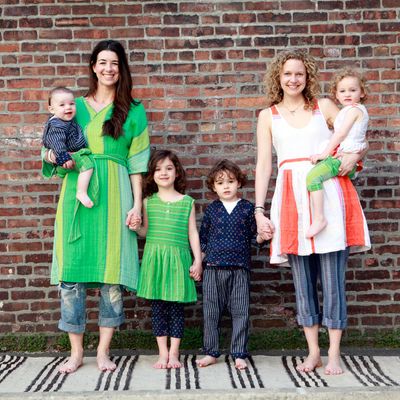 From left: Paul, Cary, Alice, James, Jenna, and Ada
Photo: Bek Andersen
Cary Vaughan and Jenna Wilson joke that they must have met one another in a past life. The designers behind Ace + Jig became fast friends as interns at the now-defunct label Language, and eventually moved up to become assistant designers. When the line folded in 2004, the duo moved on to the contemporary brand LaRok as creative directors. After three years at the fast-paced, trendy line left them feeling burnt out, they knew it was time to take some time off to regroup creatively. They served as each other's bridesmaids, had their first children, and then launched womenswear brand Ace + Jig in 2010.
Named after their children (Vaughan's daughter Alice's initials spell out Ace, Wilson's son James's spell Jig), the affordable collection of loosely cut tops, pants, and jackets for women was first picked up by Steven Alan. After years of doing one-offs for their close friends and family, Vaughan and Wilson decided to launch a children's line this summer. The cute and comfy kids' clothes will go for $60 for pants to over $100 for dresses at hip spots like Sweet William in Brooklyn. The Cut caught up with Vaughan just before the women left for India to talk friendship, motherhood, and why kids' clothes should never be fussy. Read on, and click below to see the kids' collection, as modeled by the designers' kids.
Did you always want to work in fashion growing up?
Yes! My grandmother was an antique dealer, so I grew up around a lot of antiques. Jenna knitted clothes for her cats.
Did her cats actually wear them?
Oh yes, I'm sure. [Jenna] went to F.I.T. and I went to the Savannah College of Art and Design. We met as interns for Language but we both knew we wanted to be our own boss.
How did you go from having small children to launching your line? 
I had my daughter in 2008 and we started working on Ace + Jig in 2009. But when we were working at LaRok, Jen and I rented space on 9th Street in the basement and just messed around. We both have these huge vast personal collections of antique textiles and we were making one-of-a-kind things out of lace. It was always something that we wanted to do and the time was right.
When you started Ace + Jig it was all about textiles, but how did you decide on your aesthetic?
We knew coming from LaRok and being in this industry that we really needed to have a strong identity, especially in the contemporary price point market. Some of the people that we love the most are designers like Missoni, who really focus on their textiles. Our first collection had three fabrics and focused on the stripe. It's an iconic medium but you can expand on it in so many ways like little dots, plaids, etc.
Who is the woman you're designing for?
We design for someone who appreciates textiles and who loves fashion but is not a fashion victim.  We try to have our prices and sizes be very approachable. A big part of our whole plan was to have our clothing range from extra-small to extra-large.
How does being a mom influence your aesthetic?
We wanted to create items that were seasonless, effortless, timeless, and comfortable. Our line is an extension of our lifestyle and we've tried to do a lot of pieces with pockets. We wanted to create clothes that our friends could wear, and we have friends that are from all walks of life, not just in New York or L.A.
So why did you decide to do a kids' line so many years later?
We had to get our friends off our backs! We live in Park Slope and it's like kid mecca over here. We had a few things made for our kids and that sparked it, so we started to gave [clothes] to people as gifts.
A majority of the kids' pieces are mini versions of the adult pieces. Do kids want to wear that?
Yes, they're similar but we have more fun combinations with the kids' clothes. A lot of our fabric is really soft because kids want to feel comfortable; they're not fashion victims. They relate to the color, the patterns, and the softness of the fabric.
Do your kids ever play around in the studio and try to design?
My daughter totally knows the names of our fabrics. The other day, not kidding you, she was like, "Mom you know what's really cool? I see people that are not your friends wearing Ace and Jig." She totally gets it and she's 5.
What's your favorite place to take your kids in the city?
We do a lot of art museums with them. The Brooklyn Museum has this program for 4- to 7-year-olds on Sundays at 11 called Artifacts. I just took my Alice last Sunday and they compare and contrast pieces of art. Jenna takes James to the MoMA for something similar.
Why are you guys headed to India?
We go there a few times a year for two to three weeks at a time to work one-on-one with the weavers creating our fabrics. We sit down at this ancient loom and the weaver is in his bare feet. There's a guy who dyes the yarns on the rooftop with his bare hands. He just tests the color with his finger on a stucco wall behind him and it [looks] like a mural.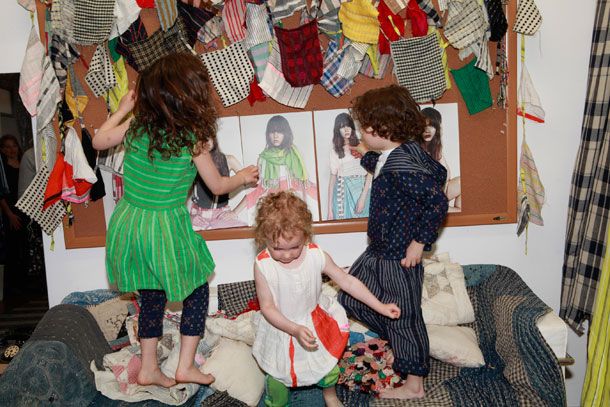 Alice, Ada, and James play in the studio.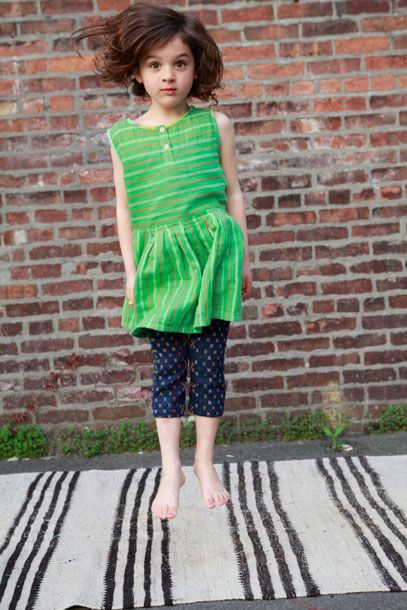 Alice jumps in the Boardwalk dress and Pop pants.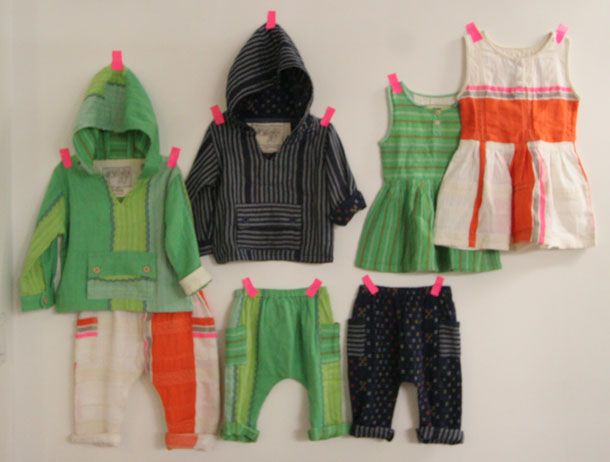 Clockwise from left: Baja hoodies ($82), Boardwalk dress ($74), and Pop pants ($60).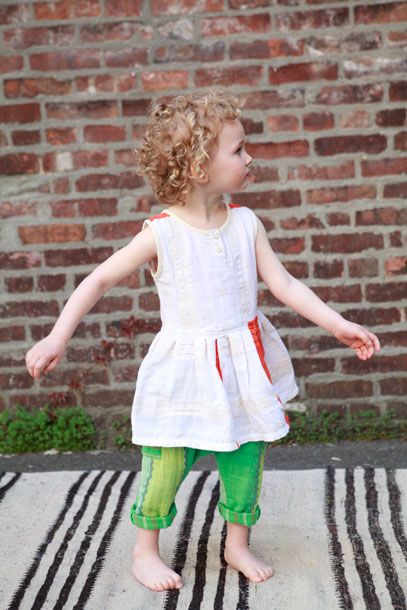 Ada spins in the Boardwalk dress and Pop pants.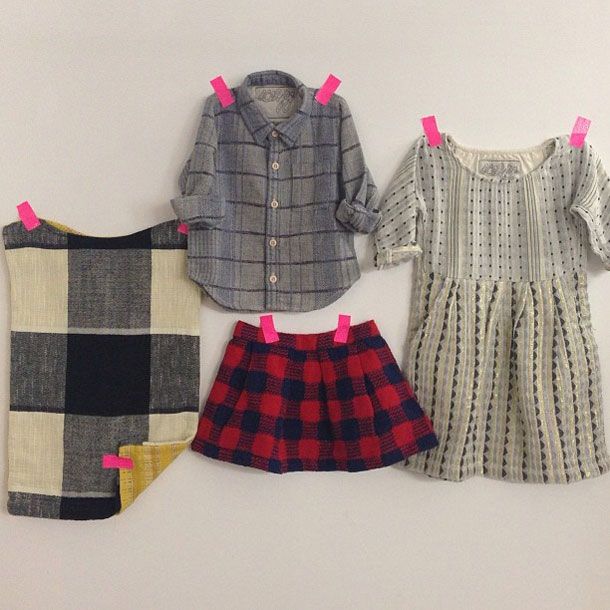 Some more kids' clothes that will hit stores later.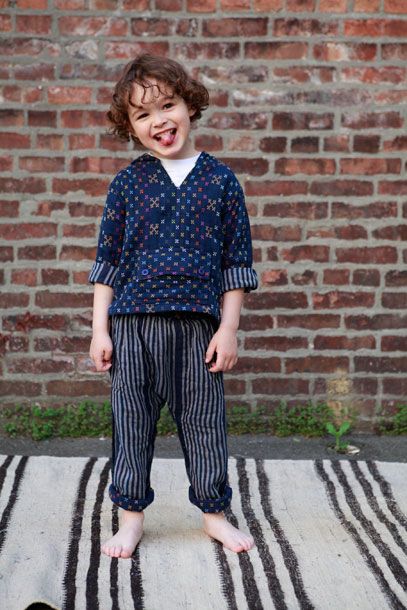 James sticks out his tongue while in the Baja hoodie and Pop pants.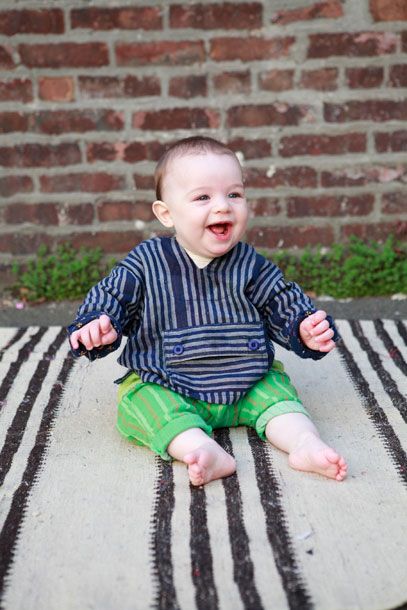 Baby Paul in the Baja hoodie and Pop pants.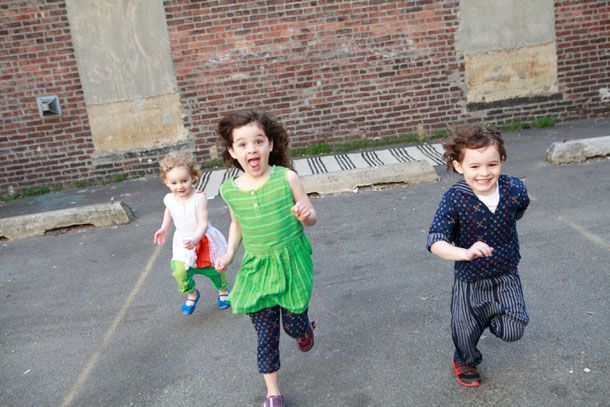 Very running-friendly.