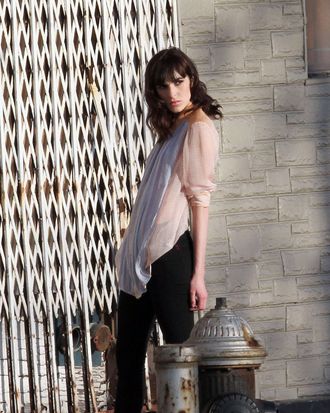 While her older sister was busy making courtroom appearances, the younger Lohan daughter, Aliana, was often right there with her — either shielding her face from the paps with a giant curtain of her own hair or a studded purse. In her preteen years, she tried to follow her big sister's footsteps almost exactly, pursuing both acting and singing careers.
But now, according to an interview with WWD, the 19-year-old Ali (who stands at a willowy five foot nine) has her eyes fixed on modeling. Lohan recently signed on with Wilhelmina Models and even posed for Elle Korea. She tells WWD, "I would like to be known as my own person. I don't need to ride on any coattails. I just want to make my mark myself. I definitely have to prove myself." Still, the interview ended up being mostly Lindsay-centric (rehab visits were even discussed), but Ali remained a good sport. She only had glowing words to say about her family, calling Lindsay a "good roommate," and her mother, Dina, "the best mom ever." And she even doled out some advice she learned from her experienced older sister. Read on for Lindsay's words of wisdom.
On following Lindsay's advice:
She just says the main thing is to do your best and to do what you love. We're very close and speak very often. Well, the last time we spoke, I guess, was two weeks ago, so kind of often. But yeah, she's awesome.

On what Ali learned from Lindsay's fame:

I want to make the most out of the word 'fame.' I want to do good things with my fame, or whatever it is. I want to help and do charity work. There's something going on in Chile right now with the water, so I think I'm going to down there in a month to help out. My grandfather worked with charities his whole entire life, and we grew up living with him. He always told me about the other side of the world and everything that's going on.
On being a Lohan:
We're just like any other family. We're close, we love each other and we have arguments like any other family. At the end of the day, I only trust my family. I feel that so many things have happened, but at the end of the day, they're always going to be there for you.
All in all, surprisingly non-train-wreck-y.