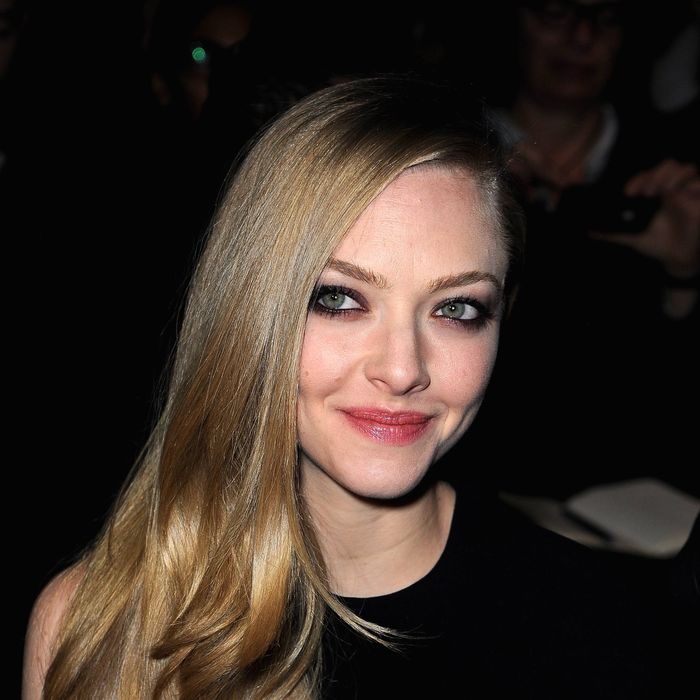 Amanda Seyfried in Givenchy.
Photo: Pascal Le Segretain/Getty Images
When Givenchy asked Amanda Seyfried to be the new face of their Very Irresistible fragrance, replacing longtime muse Liv Tyler, her reaction was exactly right: "Fuck yeah," she told WWD. She's probably been angling for the position for a while, attending Givenchy's fashion show in March (where she sat next to Louis Vuitton's Antoine Arnault) and wearing Riccardo Tisci's designs on several major red carpets, including the Golden Globes and Vanity Fair's Oscars party.
Landing a major campaign is basically a rite of passage for actresses these days (almost all the big names are affiliated with a fashion label, including Jessica Chastain, Jennifer Lawrence, Kristen Stewart, Natalie Portman, and the list goes on), so this job is a coup for Seyfried, and will raise her profile with glamorous ads and a closetful of great dresses to wear. Also, to be handpicked by  a well-connected and well-regarded designer like Tisci is nothing to sniff at. No word on whether she'll come to next week's Met Gala, which Tisci is co-chairing, as she's currently filming a movie in Santa Fe, but no doubt she's gotten an invitation.
The campaign encompasses print and TV and will come out this October, according to WWD. But one question remains: Why did Tisci replace Tyler? Chances are they just wanted some fresh blood, as Tyler's been with the label for years now. It's unclear whether this signals the end of Tyler's relationship with the brand entirely, or if her role has simply changed.