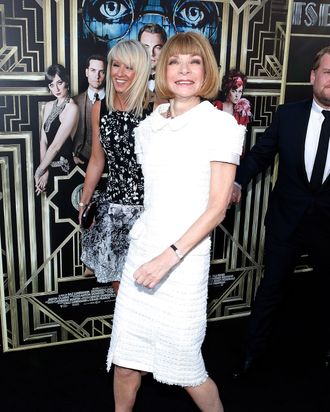 Anna Wintour.
Photo: Jemal Countess/Getty Images
At the Great Gatsby premiere last night, E! reporters managed to convince a reluctant Anna Wintour to speak into their microphones for a whole 32 seconds. (Including "I'll see you in a minute, Florence," to Florence Welch.) She said mostly boring things about how Carey Mulligan has "enormous style" and that she just wants to support director Baz Luhrman, with whom she shares a backyard. But then, just as she was wriggling away, this exchange occurred:
Reporter: Does anyone intimidate you?
Anna: Oh, everybody! [Girlish laugh.]
Brushing up on her red carpet banter for next week's Met Gala, we see.