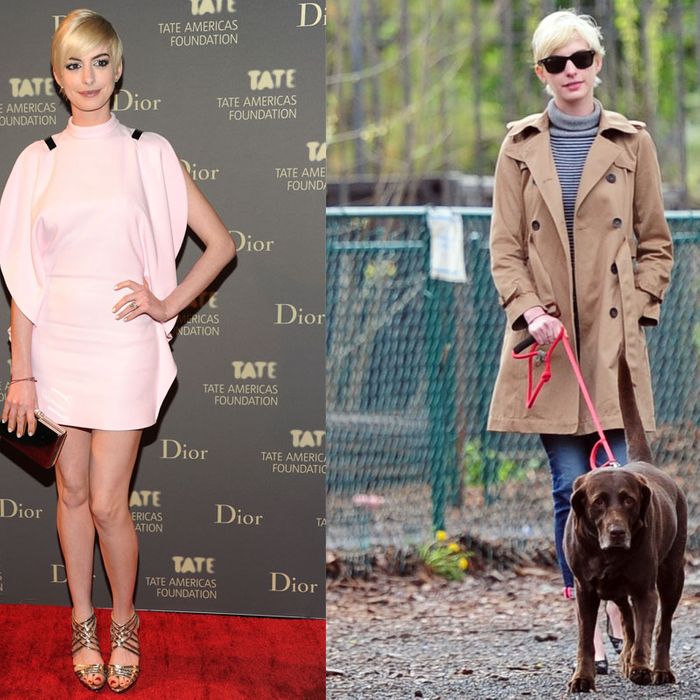 Anne Hathaway debuted her bleach-blonde hair to much fanfare at the Met Gala on Monday, creating enough of a splash to make people forget all about those sad Oscar darts and her subsequent artichoke-hoarding. It was a bold and optimistic move, really: Life gave her an awkward haircut, and she turned it into a lemonade-colored dye job.
Although she'll have to change colors again soon for another role, the platinum look currently functions as a post-Fantine palate cleanser, and she's getting the most out of it while she can. Yesterday she went out twice, once to walk her dog in Brooklyn and then out to a fancy event in the evening. Let's explore the day and night versions of her fresh blonde head.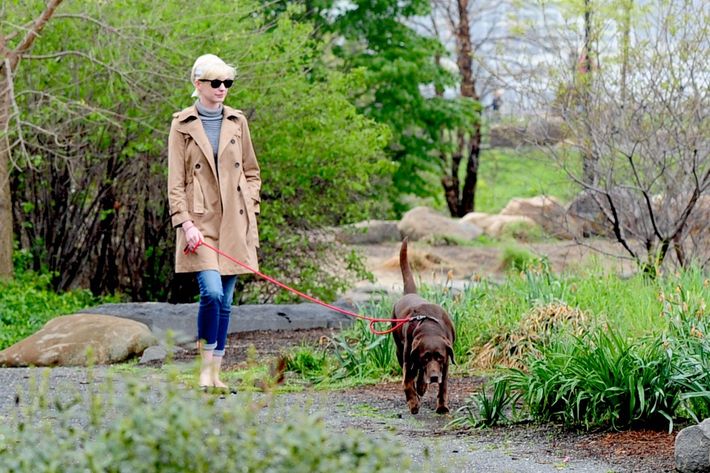 Anne's "casual afternoon with the dog" look: Yesterday, Anne strolled around Prospect Park in jeans, an open trench coat, and a striped sweater with the turtleneck rolled just so. Her Ray-Ban sunglasses were perfect for making her look like she was trying to go icognito without actually disguising her at all. Meanwhile, her hair is a lesson in the art of unwashed chic: It's tousled and piecey, but any greasiness is concealed with an adorable headband.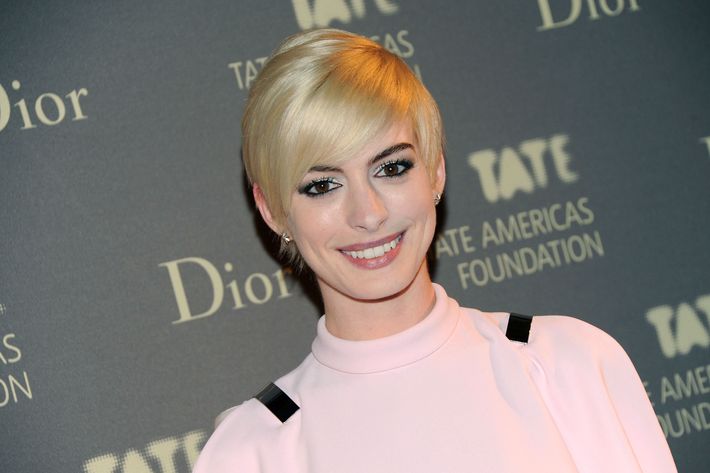 Anne's "cocktail hour sexpot" look: Last night, Anne showed up to the Tate Americas Foundation Artists Dinner with freshly shampooed hair blown into a gleaming dome. Sideswept and glossy, it was a flaxen version of the original Justin Bieber bowl cut. It also looked great with her rosy pink Givenchy dress (perhaps an alternate Met Gala gown?), sparkly silver eyeshadow, inky black liner, and impeccably arched brows, which we never really noticed until now. Let the countdown to the summer 2013 bleaching trend start … now.