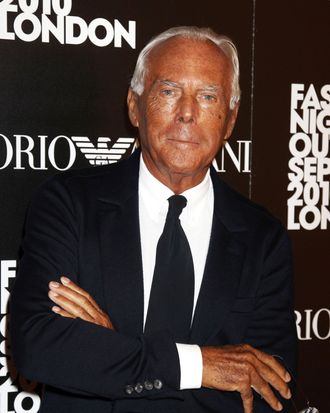 Photo: Chris Jackson/Getty Images
Giorgio Armani recently turned down an invitation from Italy's Chamber of Fashion to become an official member in efforts to revitalize Milan Fashion Week, WWD reports, but his decision was just "for now." Armani clarified that he is still onboard with the chamber's mission, but offered up another solution instead: win back strong Italian fashion brands that have gone off to show in other countries to show exclusively in Milan.
"I realize that this would mean for some brands to review their company policies and to also accept some compromises, the same compromises or sacrifices that I have made so that the shows would last six days," Armani states in WWD. "I have always believed that it was important to avoid being conditioned or pressured from abroad in the organization of our calendar. If maisons such as Gucci and Fendi, now owned by French groups, maintain their shows in Milan, it is a contradiction … not all Italian brands wouldn't do the same."
In short, Giorgio misses his luxe Italian brethren that crossed over to the dark side and wants them to return to their homeland — for Milan Fashion Week, for "Italian creativity," and finito. Or something like that.